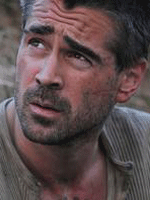 As I write this, I can hear Peter Weir's "The Way Back" playing at the Abel Gance outdoor cinema screen a block away.  As I passed the massive crowd that turned out for tonight's screening, it got me thinking about Eugene Novikov's Cinematical review of the film, which was unfortunately picked up at many outlets following Friday night's debut.  Unfortunate because it completely misrepresents the film.
Starting with the first line, Novikov says Weir's film is "sadistically intent on making you feel as much of its subjects' physical agony as possible" It's a struggle, to be sure. This isn't a happy time in these people's lives. But there's nothing here defying convention when it comes to a survival film, so why the hyperbole? And "sadistic" is an unfortunate adjective because it assumes a twisted sort of intention, which isn't true at all. If Weir is being "sadistic," then I'd love to hear what Novikov thinks Danny Boyle is doing in "127 Hours."
He goes on to say the film is "too straight up harrowing" to get awards traction. Novikov might think the film could have a tough road ahead Oscar wise, but it certainly won't be because the film is "too harrowing." There's nothing here that we haven't seen a thousand times in a thousand Oscar contenders, and that's not to say it's derivative (it isn't). It simply doesn't depict the gruesome journey Novikov projects.
Maybe Novikov thought the film was depressing. That would be fair. Again, it's not a happy journey. Maybe he found it dark. They marched 4,000 miles across a continent and, I don't think it's a spoiler, not everyone survived. This is not "sadistic" or "too harrowing." It's actually very human, naturalistic and, ultimately, moving.
The biggest zinger comes when the writer notes (by way of being speculative of the true events upon which the film is based) that "true stories rarely make great movies anyhow." Come again? I get it. He's saying dramatization is generally more intriguing. Debatable, but also quite reductive, based on how he writes it here.  And while the film may pose some interesting moral questions, I wouldn't go so far as to call it "morally thorny."
I will agree with Novikov that the film takes a "merciless, unflinching approach" to the events it depicts. I'll also agree with his admiration of Weir's landscape sense. And fair enough if he had an "intense, unpleasant experience," but that's not the film virtually everyone I've talked to saw. And it's certainly not the film I saw. It makes me wish all the more that I had skipped "Never Let Me Go" in order to offer the counter-balance to a review that quickly became the face of a film in the critical community before other voices eventually came to its aid (but were unfortunately too late).
The film will not be "too painful for people to endure." And it is not, in my opinion, a film that is "inspiring in the grimmest possible way." Quite the contrary, in some ways.  So when "The Way Back" finds its way to you, don't think you need to have "the fortitude to take the plunge," as Novikov warns with breathless exaggeration. It's nothing you haven't handled before.
[Photo: Newmarket Films]