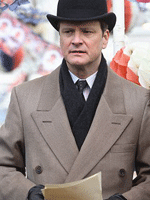 The second day of Telluride has brought treat after treat. I decided early this morning to skip the world premiere of Danny Boyle's "127 Hours" in favor of Tom Hooper's "The King's Speech" because I could slide two films in rather than the one. Peter Weir's latest, "The Way Back" (which didn't generate many reviews at all from last night's premiere — most must have been at "Never Let Me Go") was playing shortly after.
It couldn't have been a better decision. I was treated to both the film of the festival so far and a profoundly moving work of art from a modern master.
Let's dive in…
"The Way Back" (****)
Peter Weir has made a career out of visual feasts with thematic resilience. Some might consider him the David Lean of our time, and with good reason. But the key difference is that Weir has slowly developed an art house niche out of epic scale filmmaking.
This kind of thing obviously doesn't lend itself to studio interest, especially in a day and age when those at the top are frequently number crunchers and business types lacking the cinema knowledge (and appreciation) base of their predecessors. As such, a film like "The Way Back" waited forever for a company to bite, and now that I've seen it, I'm convinced it's an embarrassment and a blight on many records that the film and Weir have been left out in the cold, because this is quietly profound, epic, bold filmmaking at its very best.
The film is unconventional in its depiction of a long march by Siberian Gulag escapees out of Communist Russia. But rather than becoming repetitive or aimless, the film's series of vignettes depicting the mundane particulars of survival (be it physical or psychological) is incredibly moving and consistently engaging.
The narrative starts in a Poland interrogation center (introducing us to central character Janusz, capably portrayed by young talent Jim Sturgess) before whisking us away to the Siberian labor camp. There we meet a number of the individuals we'll accompany on an epic journey out of snow-drenched Russia, across the deserts of Mongolia and the Great Wall of China and, ultimately, over the Himalayas into India. And though dramatized, it all actually happened.
Sturgess is a wonderful anchor for the viewer throughout, but it's probably the performances from Ed Harris and, especially, Colin Farrell that stand out the most. Nevertheless, this is a true ensemble piece very much concerned with the necessity of togetherness to pull through the worst and Weir, along with a below-the-line crew worthy of love letters, pulls it off without a hitch.
"The King's Speech" (***1/2)
Speaking of ensemble pieces, Tom Hooper's "The King's Speech" started things off just right this morning and received a hell of a reaction from the crowd. I haven't seen or heard reactions from "127 Hours" yet, but as far as I'm concerned, this is the film of the festival so far, a wonderful, touching story well told.
Colin Firth stars as King George VI, though of course when we meet him he is still merely "Bertie," the Duke of York, serving on the British Royal Navy in the shadow of his brother, expected throne inheritor Edward VIII. Afflicted with a stammering impediment since an early age, he never expected to take control of the empire, and certainly not at perhaps its most delicate time of crisis.
The film tells the story of his relationship with Lionel Logue (Geoffrey Rush), the speech therapist who helped him reach that unthinkable position with the confidence the people of England expect of their king. And Hooper knocks it right out of the park. He films his actors closely with a wide lens to affect a sort of intimacy with the narrative. Indeed, it's rare to feel this close with the characters in a film, and much of that is owed to a pair of truly exceptional performances from Firth and Rush.
These two have amazing, impeccable chemistry together. The script (along with their own input) offers a wonderful balance of humor and drama for the actors to work with. Each should comfortably find himself in the hunt for Oscar, and I wouldn't be surprised to see the film land nominations for Best Picture, Best Original Screenplay and Best Art Direction (absolutely splendid). The cinematography and film editing are also quite worthy.
Firth, Rush and Hooper were greeted with an enthusiastic standing ovation when they took to the stage for a Q&A, where Hooper told the story of how screenwriter David Seidler (who himself once overcame a speech impediment) wrote the Queen Mother in the early 1980s asking permission to write the script. "Not in my lifetime please," she asked of him. The events were still too fresh for her. Nearly 30 years later, he sat down to write this moving piece of work and Hooper, Firth, Rush and a wonderful cast have taken good care of it. I can't wait to ask them more about it. I'm on my way out the door now to do just that.
More, including thoughts on an evening screening of "127 Hours," later tonight.