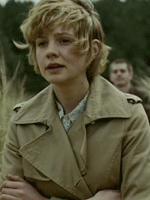 On the first day of this year's fest, things are off to an interesting, up and down start. I would bore you with an intro, but it's late and I'm fading. Let's get to the reactions…
"Never Let Me Go" (**)
I went back and read Guy's summation of Kazuo Ishiguro's novel "Never Let Me Go" after seeing the film tonight (I've never read it and knew nothing of the story's plot going in). He wrote of a "discussion of mortality and the human condition" in an emotional context that, for a filmmaker like Mark Romanek (who knows from visual emotional storytelling — just look at the video for Johnny Cash's cover of Nine Inch Nails' "Hurt"), seemed a perfect marriage of material and artist.
Shockingly, however, Romanek's adaptation kept me at arm's length from frame one. There is a distance here, a cold sense of removal from what would otherwise be an extremely moving narrative. I wanted desperately to feel for the characters and their plight (I won't hazard particulars for fear of spoilers). But I felt nothing…at all. I wanted them to rage against their circumstances and show an ounce of the spirit they in one instance even set out to prove they have, but there was, again, nothing.
Perhaps that's a subtle point of the piece.  If so, I just can't say it works for me. In his feature work, Romanek seems to have David Fincher's tendency toward coolly registered emotional tones. And it does him no favors here. Of the cast, I was most responsive to Carey Mulligan's nearly catatonic state of inward consideration and turmoil, but Keira Knightley gets plenty of time to shine, while Andrew Garfield develops a unique character that nevertheless remained elusive when a sense of connection was sorely needed.
Rachel Portman's gorgeous score, by the way (perhaps the film's best bet on the Oscar circuit), plays to an emotional level that's not there until it's too late, while Adam Kimmel's camera lingers on the characters observationally and, at times, quite beautifully. But I was left entirely unaffected by the mixture.
"Tabloid" (***1/2)
It's a great year for documentaries at this year's fest and Errol Morris's latest is right at the top. "Tabloid" tells the twisted story of beauty/tabloid queen Joyce McKinney who, in 1977, was accused of kidnapping her one-time Mormon sweetheart, Kirk Anderson, sequestering him in a cottage in rural England, tying him to a bed and "raping" him for days. The case set UK tabloids alight and was dubbed "The Mormon sex in chains case."
It sounds too sensational to believe, but it is, every bit of it, absolutely true. And McKinney makes for as fascinating a subject as Morris has ever documented, a deranged, somewhat monstrous woman who you find yourself loathing and pitying with equal measure. And just when the story seems to have been fully unveiled, Morris takes us in a completely different direction in a "wait, it gets better" sort of denouement.
It's masterful work with Morris's trademark sense of humor splattered all over it. The filmmaker, as always, chimes in at just the right times for clarification or further questioning. He's clearly as dumbfounded as we are every step of the way, but he maintains a commendable sense of respect for his subject, even when he's clearly having a laugh with this cutaway or that graphic. This is one of his best films in years (and the second Telluride debut of his career).
That's it until tomorrow, which will bring one of the festival's "secret" sneak peeks: Danny Boyle's "127 Hours." Boyle will be here along with James Franco and, a real treat, Aron Ralston himself.