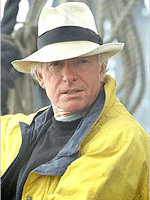 Pete Hammond, newly of Deadline, is one of only a handful of people who has seen Peter Weir's "The Way Back," premiering here at Telluride in a matter of hours.  He sat down with the director this afternoon and in his piece, he notes how curious it was that the film is slated for a January 21 bow without a one-week Oscar qualifying run.
Weir told Hammond the film was ready for Cannes but that there was skepticism about whether a market exists for films of this sort.  And an Oscar campaign comes down to money, obviously, which is something Anne and I discussed in this morning's Oscar Talk.
The whole interview, though, reads like an unfortunate requiem to the kinds of classic films Weir has built his career upon.  The independent market and business is in considerable flux these days.  The idea that a Weir film was a hair away from going straight-to-DVD is just…depressing.
Writes Hammond of the film:
The film, set in 1940, does have a bleak atmosphere and is not an obvious sell for today's 'what's the easy hook' movie marketers but tells a fascinating tale of a small group of multi-national prisoners who escape a snowy Siberian gulag, subsequently following their harrowing and impossible trek of thousands of miles through five different dangerous countries. Although it's been  fictionalized, it is inspired by the real life tale of three men who turned up in India one day after reportedly making a similar journey…

[The film] is reminiscent of the kind of ambitious and sweeping epic in which Lean excelled. Of course, if Lean were working in  today's film industry, he probably wouldn't be working.
Great interview.  Read the rest at Deadline.