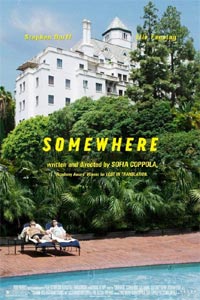 Venice Film Festival
Who'd be Sofia Coppola? (As an artist, I mean – I'm sure plenty of women would gladly trade for her beauty, wardrobe and Parisian rock-star husband.) No sooner had her bijou, highly personal breakthrough picture netted her an Oscar, atop countless critical valentines, than an acidic chorus of detractors began chiding her for aiming too low. When she shot for postmodern history and swirling visual excess in her strong follow-up, "Marie Antoinette," the same people gleefully decided she was reaching too high this time.
So when the pitch surfaced for her fourth feature film, it seemed that Coppola may have been cowed into submission by her critics: another story of a disaffected Hollywood actor adrift in hotel world, its apparent similarities to "Lost in Translation" could scarcely pass without comment. Was Coppola playing it safe, or worse, exposing a limited creative arsenal?
The answer to both questions, happily, is no. With the wry, shimmery and thoroughly beguiling "Somewhere," Coppola has perhaps made exactly the film she needed to at this point in her career: one that calmly takes stock of her abilities and interests rather than pushing them too severely.
The director will, inevitably, take some flak for making a third consecutive film about the alienating side effects of celebrity and privilege – but as with Woody Allen and Upper East Side intelligentsia, or Mike Leigh and Britain's Tetley-swilling middle classes, this is the world she knows and feels, and if she feels a responsibility to keep circling back to it in her work, then she should do so.
None of which is to say that the film has nothing new to offer: her first U.S.-set project since her now decade-old debut, "The Virgin Suicides," it's also her first film – coincidentally or not, made after becoming a mother – to examine notions of family with any real clarity. Argue for "Suicides" if you will, but while that blissed-out youth postcard centers on a family, it's not really about family: "Somewhere," on the other hand, begins as a solo portrait of Stephen Dorff's scuzzy movie star Johnny Marco, holed up indefinitely in L.A.'s Chateau Marmont like the manboy counterpart to Kay Thompson's Eloise, before deftly folding in a network of relationships with his ex, his brother and, most crucially, his daughter to assess the mark left by the unaccompanied life.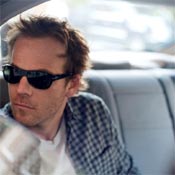 Within minutes of meeting Johnny on screen, the on-paper parallels to Bill Murray's Bob Harris retreat to the back of the mind: younger and less secure in his skin, his loneliness is longer-standing and his discontent more deeply ingrained. Coppola chooses to follow Dorff through a fragmented sequence of activities before he is afforded a word of dialogue, inviting us to assimilate the man through externals: his gaze, his stance, his tattoos, his faintly decaying hipster's uniform of jeans, plaid and artfully scuffed work boots.
It's an appropriately distanced introduction to a man who doesn't let much in, and Dorff underplays it beautifully, but both character and actor are unlocked when Johnny's 11 year-old daughter Cleo (Elle Fanning) enters proceedings, and their warm, supple chemistry becomes the film's dominant motor. Smart and self-possessed, but not preternaturally sage the way Hollywood so often likes its pre-adolescent girls, Cleo is able to take care of herself in ways that become increasingly poignant the more hints Coppola drops as to her upbringing thus far; it turns out that father and daughter are mutually reliant at alternating periods.
Both actors are a delight: it's higher praise than some might think to declare this Dorff's finest hour, but it's nonetheless a watershed performance that reflects on his established screen persona while rumpling it with softer accents. Fanning, meanwhile, is a quietly rewarding screen presence, perceptive rather than precocious, and possessed of one of the most deliciously subtle death-glares in the business.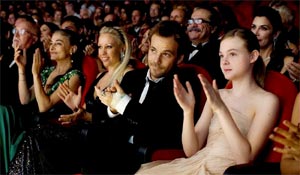 For her part, Coppola has shifted (if not necessarily upped) her game too: always languid, her filmmaking has never before been this patient, lingering long past the obvious cutting point in observational scenes in a manner that will bewitch some and enervate others.
This studied approach allows certain stretches of the film to gather emotional momentum from relatively mundane beginnings, as in an exquisite ice-skating sequence incongruously choreographed to Gwen Stefani's "Cool." (Yes, the film sees Coppola embracing Top 40 pop, though Phoenix are still on hand to provide the requisitely lovely art-indie score.)
Trading her regular DP Lance Acord for the great Harris Savides, meanwhile, is a move that pays off handsomely: as he also demonstrated earlier this year in Noah Baumbach's "Greenberg," Savides is able to make a virtual character of the hot, bleached Los Angeles light that appears to be complicit in Johnny's disorientation. That I'm talking about light as a character should probably tip you off that Coppola is at her most low-key in "Somewhere," but there's barely a note in this moving, finely wrought miniature that isn't in key either.
[Images: Focus Features]