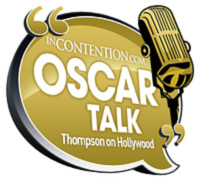 Welcome to Oscar Talk.
In case you're new to the site and/or the podcast, Oscar Talk is a weekly kudocast, a one-stop awards chat shop between yours truly and Anne Thompson of Thompson on Hollywood. The podcast is weekly, every Friday throughout the season, charting the ups and downs of contenders along the way. Plenty of things change on route to Oscar's stage and we're here to address it all as it unfolds.
Today we're chatting from the Telluride and Venice festivals respectively. The former is just gearing up while the latter has bowed a number of films already (I'm sure you've caught Guy's coverage). So Anne has more to say about the movies today than I do, but this is what's on the docket…
• The week's buzz has been dominated by Darren Aronofsky's "Black Swan," which debuted at Venice Wednesday. Anne discusses her thoughts and still has reservations on awards prospects, given the material.
• Anne also caught Julian Schnabel's "Miral," which she thought was incredibly straight-forward and to the film's detriment, as well as Sofia Coppola's "Somewhere," which sounds like a feast for fans of the filmmaker.
• I run through the Telluride line-up with some must-sees and catch-ups on the list, nothing you haven't read here already but some further pondering on my part.
• I can't help myself. I had to talk about Claudia Cardinale and last night's outdoor screening of "Once Upon a Time in the West."
• Which segues us to Anne's thoughts on "Machete," which she says borrows plenty from Sergio Leone and Sam Peckinpah. And she had a blast with it.
• With awards surveys ready to pick up, we talk about the task of picking 15 films for David Poland's Gurus o' Gold. Should that include Tyler Perry's "For Colored Girls," which was announced today for a November release?
Next week I should have more to say about these films, but for now, have a listen to the new podcast below. I kicked it off with a rather obvious music cue. There may be some audio issues due to internet/construction/air conditioning, but it's not too bad. There is some meandering, talking festival experiences, a bit looser than normal.
And as always, remember to subscribe to Oscar Talk via iTunes here.
[display_podcast]