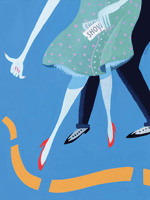 I'm just settling in here in the Colorado mountainside as the Telluride Film Festival prepares to draw the curtain on its 37th dance tomorrow afternoon.
As I look over the schedule (I Tweeted the films earlier this morning), I'm seeing plenty to chew on. For starters, the world premiere of Peter Weir's "The Way Back" is slated for tomorrow night. I was crushed, though, to see it slotted at the exact same time as the world premiere of Mark Romanek's "Never Let Me Go." But both will screen plenty throughout the fest, as a tribute to Weir is in store to go along with the former, while Romanek and actress Carey Mulligan are in town to promote the latter.  Author Kazuo Ishiguro will also be here to sign copies of his novel.
Telluride is preempting Toronto on Romanek's film, as well as the new Errol Morris documentary, "Tabloid." Meanwhile, Sylvain Chomet's animated "The Illusionist" has been playing the festival circuit all year and is definitely near the top of my must-see list.
Tom Hooper's "The King's Speech" was not listed in the official program we received at the airport, but Colin Firth was on my plane along with Hooper and co-star Geoffrey Rush (who quipped, "FIRTH class is in the back" when Firth boarded, which, sue me, cracked me up). There's also a tribute for Firth on the docket, so it's safe to say the film is indeed one of TBAs scattered throughout the schedule grid.  (Indeed, it's on the release that went out this afternoon, as it turns out.) The Weinstein Company did not bring Julian Schnabel's "Miral," however, which isn't faring too well at Venice.
I would say the event I'm far and away more interested in than any film or premiere is a scheduled tribute to actress Claudia Cardinale. Cardinale was probably one of my earliest crushes. When I saw her in Sergio Leone's "Once Upon a Time in the West" as a kid (my dad was a huge fan of the film), my jaw dropped and my heart skipped beats. I've always considered her to be, easily, the most beautiful actress to ever grace the screen. She's here in town for a celebration of a life's work that includes collaborations with Federico Fellini, Luchiano Visconti and Werner Herzog (who is also in attendance, a Telluride regular) and, well, I just hope I don't embarrass myself if we cross paths.
Guest Director Michael Ondaatje has picked a unique selection of titles to share. I may try to catch Jan Troell's "Here's Your Life," which I've never seen. In the program, Ondaatje notes, "Ingmar Bergman at the end of his life said that film is one of the uncompromising masterpieces of Swedish film history." And if you're wondering why Ondaatje, better known as the author of novels like "The English Patient," was tapped as Guest Director, it's because he actually was a documentary filmmaker once upon a time.
Elsewhere there's a lot of Cannes catch-up for me: Alejandro González Iñárritu's "Biutiful," Mike Leigh's "Another Year," Stephen Frears's "Tamara Drewe" and Oliver Assayas's "Carlos" are on my list. Hopefully I get to them all.
The TBAs will surely bring any number of surprises, but for now, that's the lowdown on the 37th annual Telluride fest for now.  I'm off to pick up credentials and make my Sophie's choices.
Be sure to keep track of me on Twitter, which is where I imagine a number of early reactions will land first.