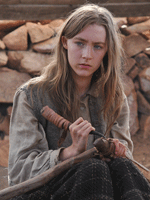 I have to say, if Newmarket Films isn't planning an Oscar qualifying run in December for "The Way Back" (and nothing in the release or news stories indicates that it's in the cards), then it's quickly off the table as a must-see in the early stages of Telluride.  I'll see it, mind you (I've been very much looking forward to it), but the "Never Let Me Go" world premiere may have just moved to the head of the line for tomorrow morning.
Anyway, the film is set for release on January 21.  That's prime launching ground for a film with a qualifying run, so I don't know, maybe there's more to it.  Jeff Sneider reports at The Wrap that an individual familiar with the situation says the studio is "still considering" a qualifying run.
I actually chatted with Weir briefly this afternoon.  Apparently the decision to bow the film at Telluride was somewhat last minute, or at least pretty late in the game (which is why it was probably the biggest surprise inclusion on this morning's schedule).
The director will be feted here tomorrow.  I've heard from two different people who've seen "The Way Back." Both loved it but disagreed on the awards potential.  We'll see what the reaction is after tomorrow morning's screening.  Ed Harris is also in town to promote the film, by the way.