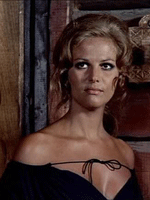 It's one of the joys of Telluride, the spirit of communal film-going evident in the outdoor screen set up each and every year in the middle of town.  Tonight, I'm heading back to the room, quite drunk and full after a meal with colleagues, and suddenly: the unmistakable wail of a harmonica.
There is no way I'm going to hear the sounds of Sergio Leone's "Once Upon a Time in the West," to me one of the two best films ever made, and not stop to soak it in.  And under the stars?  In the crisp Colorado air?  Sold.
Unfortunately, it was the end of the film.  I had no idea that was the choice for tonight's introductory screening (which dovetails with the Claudia Cardinale tribute scheduled during the fest), but I stopped, grabbed a spot on the grass with the rest of the viewers and watched Harmonica exact his revenge with a big smile on my face.
[Photo: Spill]