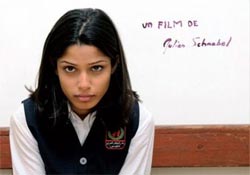 Venice Film Festival
Coming as it does from a filmmaker whose previous work has bent over backwards to reclothe and perfume the unglamorous body of the prestige biopic, the opening beats of Julian Schnabel's latest, "Miral," couldn't be more prosaic.
For a good few minutes, the credit sequence offers the eye little more than a dawdling pan over a fuzzy map of the Israel-Palestine region, ennobling music thrumming away. (The blocky purple credits themselves are hideous, by the way, but that's already the least of our problems.) Surprises aren't exactly forthcoming when we the credits wrap and our geography lesson is complete: "My name is Miral," intones Freida Pinto in a helpful introductory voiceover. "I was born in 1973, but my story really begins in 1947."
Except it doesn't; another woman's does, however, and it's the first of several admissions of the film's own uncertainty as to why it's here in the first place. The first of Schnabel's biopics to come with a moderate fictional sheen, it's scripted by Rula Jebreal — an international political journalist who became conscientized during her teenage years at an embattled Jerusalem orphanage — from her openly autobiographical novel, though it loftily purports to be about three generations of Palestinian women working toward independence.
Chapter-like intertitles foretell evenly divided attention between said generations, though it's a markedly empty promise: fussy editing working overtime against lumpen construction, the film impatiently checks off Hiam Abbass, as indubitably earnest orphanage founder Hind Husseini, and Yasmine Al Massri, as Miral's alcoholic mother, before landing to roost for the remaining 90 minutes on the relentlessly lovely skin of Freida Pinto as Miral/Rula herself. (So cursory are these acts that there's scarcely time to wonder why Vanessa Redgrave is suddenly on screen with woolly foliage in her hair, beyond the possibility that some enterprising casting assistant saw "Zionist" in the film's word-cloud and promptly rang her agent.)
Abbass, saddled with an old-age wig and glasses that liken her distractingly to "Will & Grace"'s cantankerous maid Rosario, at least gets to hang about for the duration of the piece on succour-provision duty, but from there on, "Miral"'s character network is as pencil-sketched as its politics.
The film's purposeful narrowing of its narrative avenues to the 17 year-old Miral's gradual involvement in the liberation movement, via a romance with Omar Metwally's hard-headed activist, would be fine if there was any evidence of an inner life to Miral herself; as played with more effort than effect by Pinto, however, she's little more than a sounding-board for rival moral and political stances, hardly assisted by chunky, cloth-eared dialogue like, "Thank you for protecting me and loving me all these years… I am so proud to be your daughter." (She is given several such homilies to deliver, all of them veritable death warrants for the character at the receiving end.)
For Schnabel's part, his stated passion for the material is scarcely evident in his screen treatment thereof, which rather awkwardly welds his pet visual and sonic tics onto a narrative that struggles to support them. (By the time he chooses to soundtrack a traditional Palestinian funeral with a phlegmy Tom Waits dirge, you wonder whether the director is treating Jebreal's work as an elaborate exercise to prove that, look, any story can become A Julian Schnabel Film.) Whereas Schnabel's florid artistic sensibility previously successfully established a kind of empathy with fellow creative subjects like Reynaldo Arenas or Jean-Dominique Bauby, his approach feels both shoe-horned and faintly disingenuous in this context.
Enlightening neither as emotional essay nor as straight-up history lecture, then, "Miral"'s tricksy oat-bran filmmaking seemingly lands shy of every imaginable target audience: it's too dry for the middlebrow awards set that might otherwise thrill to its superficially good intentions, too didactic for the highbrow intelligentsia that turned out for the director's previous outings, and too dull for just about everybody. "I feel so useless, I really want to do something," frets Miral midway through the movie; it's indicative of the film's minimal emotional investment in its protagonist that the reply to this confession is: "You have beautiful eyes."
[Image: The Weinstein Company]