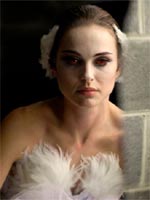 Two days into the Venice Film Festival, and still the only film I consistently hear people talking about is "Black Swan" — even as the film accrues its share of detractors, it seems Venice fest director Marco Müller has broken the traditional curse of festival curtain-raisers, kicking off this year's Lido activity with a film people actually give a damn about. (As Variety's Justin Chang rather succinctly put it on Twitter: "In the battle of opening-night films: Venice 1, Cannes 0.")
Meanwhile, its kinship with Aronofsky's previous feature, "The Wrestler," has grown from an interesting side-note broken a few days ago into the most recurrent point of discussion around the film; Aronofsky addressed the matter directly in the film's press conference yesterday, from which USA Today offers this quote:
The more I looked into the world of ballet, I actually started to see all these similarities to the world of wrestling … They both have these performers that use their bodies in sort of extremely, intense physical ways. Their entire performance is based on intense physicality.
This chimes in with the observation I made in my own review that "[b]oth [films] are studies of performers destructively addicted to their art, and the new film maintains the director's fascination with the broken bodies of such individuals."
The longer I dwell on it, the more I think that an awards attention that comes Natalie Portman's way will be predicated more on the physical commitment of her performance than anything else: the same USA Today piece mentions the actress's gruelling training program in preparation for the film (six months of extensive ballet, swimming and cross-training practice, before an extra serving of intricate choreography lessons), and I except we'll keep hearing these method-y details repeated on the campaign track.
Readers keep asking me about the Oscar potential of the film, but I remain guarded: Kris will see the film soon enough, and his instincts in such matters are sharper than mine. Anne Thompson and I agreed at lunch today that the film has its work cut out for it in the top races — wild psychodrama not being the Academy's strong point, particularly if critical opinion turns out to be split — and the extent to which voters (and audiences) warm to her vehicle will be a determining factor for Portman, given how deep the Best Actress field already looks.
But that's us. Others are convinced that Portman has the nomination licked regardless of the film's fate, most notably Screen International editor Mike Goodridge:
If the film is ultimately too unsettling to snag main prizes, it has at least one nomination in the bag for lead actress Natalie Portman who gives one of "those" performances, transforming herself after ten months of training into an accomplished ballerina, almost uncomfortable to watch as she consumes her difficult role… Like Catherine Deneuve in Repulsion or Mia Farrow in Rosemary's Baby, she captures the confusion of a repressed young woman thrown into a world of danger and temptation with frightening veracity.
I'd be more assuaged by Goodridge's conviction if he didn't use as his reference points two performances that the Academy wasn't ballsy enough to honor in the 1960s, but perhaps we've moved on. If the Venice jury hand her the Volpi Cup, things will brighten considerably for her (though for every Colin Firth that begins their Oscar trail with that very award, there's a Ben Affleck that falls off course), but the festival is still young … and there's still the Toronto crowd to please. Ask me in two weeks' time.
[Photo: Fox Searchlight Pictures]