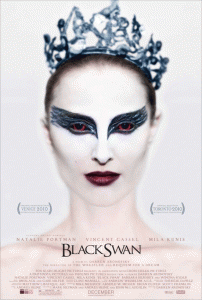 Venice Film Festival
It's the juvenilization of the term "fairy tale" that has led many people to associate them inextricably with happy endings. At their most literary, fairy tales can be moral and often very unhappy narratives of yearning, obsession and eventual redemption, even if it comes with rather a large sacrifice attached; Hans Christian Andersen specialized in compromised happy endings, notably in "The Little Mermaid" and "The Red Shoes," that would have made Walt Disney wince.
If you squint slightly at "Black Swan," the boldly deranged and beautifully despairing new film from Darren Aronofsky, you can see that it is, when push comes to plié, a contemporary fairy tale of sorts: the story of a little girl, in the fierce grip of controlling adults, who wants nothing more than to dance, and learns that she must exchange part of herself for the opportunity.
That much I can say without breaking the spell for those who have not seen it. For while "Black Swan" may reveal itself as a fairy tale, that's only after it has successfully masqueraded as a taut, witty and wickedly kinky thriller that pulls off the tricky double-bluff of following precisely the narrative course one has mapped out for it, yet emerging as all the more surprising for that adherence.
The excited hum of online chatter around the film's terrifically nutso trailer a few weeks back had people projecting all manner of elaborate, "Fight Club"-style identity gymnastics, yet it's no spoiler to say that Aronofsky has assembled a considerably more streamlined character study than one might have expected: Natalie Portman's  Nina, a physically and emotionally fragile young dancer in Vincent Cassel's progressive New York ballet company, is the nexus of all the film's nervy uncertainties.
It was reported recently that "Black Swan" was initially conceived in tandem with Aronofsky's previous film, "The Wrestler," and as far-fetched as that union seemed on paper, the film is, from first movement to last, very much the brittle younger sister to that brawny trailer-park tragedy. Both are studies of performers destructively addicted to their art, and the new film maintains the director's fascination with the broken bodies of such individuals: Matthew Libatique's camera cruelly scrutinizes the twisted, blistered shells of dancers' feet as much as the earlier film did the wrecked ghost of Mickey Rourke's body, while Aronofsky hones in on the petty rivalries and part-time camaraderie of the girls in the company as astutely as he observed Randy the Ram's meathead backstage family on the pro wrestling circuit.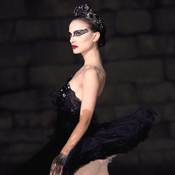 The difference is that "Black Swan" extends that fascination to the realm of the mind: Nina's malnourishment and mangled toes are small potatoes compared to the damage she inflicts on herself internally — her punishing workaholism fiercely egged on by Barbara Hershey's nightmare stage mom, in parental court on charges of both infantilization and vicarious living. When a lifetime of this is finally rewarded with her dream role of The Swan Queen in the company's revisionist staging of "Swan Lake," Nina's gruelling self-punishment tilts over into delusional paranoia, not assisted by the friendly advances of Mila Kunis's rival dancer Lily.
Here the fun begins, but while the film dances on the precipice of a steep fall into trash territory, the emotional urgency of Nina's plight keeps it centered, even as Aronofsky dials the atmospherics (and Clint Mansell the thrilling Tchaikovsky orchestrations) up to 11.
Portman has never been so cannily cast, nor so cunningly exposed, on screen. When, early on, Cassel's ceaselessly demanding director chides that he "sees only the White Swan" in Nina, and not the dark spontaneity required of its black counterpart, it could be a cheeky metaphor for the actress herself: long a lissome, delicate screen presence, she has sometimes struggled with conveying intensity or purposefulness. Here, the role cleverly forces the actress into her most pinched, peaky mannerisms — even her little-girl voice is pitched an octave higher than usual — only to undercut them as the character gradually loses her self-awareness; the resulting performance is as dangerous, and oddly touching, as Portman has ever allowed herself to be.
She's bolstered by a trio of superb supporting players: Hershey and Cassel are clearly having a whale of a time with their helpless dragonry and arch oiliness, respectively, but it's the cool, throaty-voiced Kunis who is the surprise package here, intelligently watching and reflecting her co-star in such a manner that we're as uncertain as Nina of her ingenuousness. (There's a neat cameo from Winona Ryder, too — notable mainly for gifting her with the unavoidably hilarious line, "You stole my things!")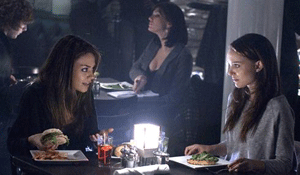 Frankly, the film would remain standing even without this wealth of human virtues, such is the richness and inventiveness of the craft it showcases.  Libatique, renewing his collaboration with Aronofsky after a one-film hiatus, excels himself here — no casual statement, that, and no casual feat, either — by fully exploiting the mobility of Super 16. You may marvel at the film's alternately dank and lustrous still compositions, all metal and mirrors with the occasional rose blush, but the true wonder is his seamless participation in the ballet sequences, the camera as fluidly choreographed as the dancers themselves. Editor Andrew Weisblum, meanwhile, has devised a striking scheme of tracking the film's rhythmic shifts, often knitting scenes together with unreturned glances and hanging lines of dialogue.
Both men (not to mention the film's outstanding design team, makeup artists included) operate within an unsubtle black-white binary dictated by the script; some will find the attached symbolism overly pat, but such schematics feel appropriate both to the literate design of the narrative and the heightened, feverish mood Aronofsky is working in this time; not as extravagant as "The Fountain" nor as unhinged as "Requiem for a Dream," it nonetheless feels like his riskiest venture to date, and his most opalescent film.
There will, I suspect, be those left cold by the film's more mannered instincts, or those who feel it's a genre-film concession too far for the director. Either way, however, "Black Swan" cements Aronofsky's place as one of the biggest and most unruly thinkers working in the only notionally small aesthetic of American independent cinema — and that, if you choose to ignore everything I just argued in my opening paragraph, is something of a fairy tale itself.
[Photos: Fox Searchlight Pictures]