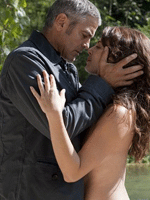 Director Anton Corbijn's sophomore feature is not an Oscar film.  Unfortunately, such a classification immediately conjures skepticism, cynicism and wariness of a project slated for late summer/early fall release.  But the fact is, just because a studio knows a film won't appeal to the sensibilities of awards season doesn't mean it's a turkey: it's not a bad thing to not be an Oscar film.
What "The American" is, however, is a measured, calculated, at times quite fascinating exercise in observing human behavior.  It's the ultimate in "show, don't tell," a film with a central brooding, finely tuned performance from George Clooney that isn't what you'd expect from the actor.
It's a quiet film, one that forces you to just simply watch and listen.  Corbijn and Clooney are putting on a very different kind of show for the viewer, one that doesn't dazzle with spectacle and big budget intrigue.  They strip the mechanics of performance and visual storytelling down to an essence that the best filmmakers will surely appreciate, and most audiences will surely reject.
Clooney stars as Jack (or Edward, depending on who he's talking to), a weapons expert tapped to build a rapid fire silenced weapon.  For what, we don't really know.  Where Jack/Edward comes from, what he does, we don't know explicitly.  But from his actions and behavior, we know him very well.
The film opens with him sitting on the ground nursing a Scotch with a million-mile-stare, a beautiful naked woman on the bed behind him.  Circumstances bring him to Italy, where he frequents a local brothel, but chooses to sleep with only one of its employees.  He's lost something, clearly, something he wants to get back.  A sense of security, maybe, the security of love and emotional comfort.  Or maybe he's never had it and always coveted it.  But the paranoia that invades his day-to-day life keeps that kind of comfort at arm's reach.  Indeed, the final moments of the film reveal, quite beautifully, this tragedy of unattainable solace with a touching visual clarity.
The most engaging moments are the procedural ones, as Jack/Edward constructs his weapon with basic materials and an unbreakable focus.  I feel confident that if "The American" were released 30 years ago (which it certainly feels from another time, in any case), it would be a film Michael Mann would cite as an influence, not for stylistic reasons, but because it pays close attention to a man and his work, the very backbone of every Mann film.
Though the film unfolds within a generally acceptable time frame, the long breaths Corbijn takes make the running time feel a bit inflated.  So perhaps some trimming would have made it feel like a tighter experience, but nevertheless, it is a wonderful exercise and, if not up to par with the director's debut feature, "Control," certainly a noble enterprise to embark upon with the freedom he had in its wake.