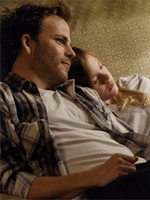 With the fall festival circuit merely hours away (Guy is already getting settling in Venice), we've got a pair of clips from two anticipated titles to pass along today.
First, there is Sofia Coppola's "Somewhere," which is exclusive to Venice and features Stephen Dorff and Elle Fanning in what isn't likely to be an Oscar movie, but could play well to European audiences on the Lido. The clip, courtesy of Reelz Channel, features some of Dorff's performance as an actor navigating the PR necessities of his latest film.  I cracked up when he stepped off the apple box at the end.
Meanwhile, MTV has a clip from "Never Let Me Go" that goes a long way (in just over a minute) toward indicating the thick, moody atmosphere the film will establish.  It features Keira Knightley and Carey Mulligan, though it's more of a showcase for the former.  The film will play Toronto later this month.
Check out both clips after the jump.
[Photo: Focus Features]