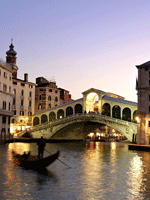 When you step off the plane and the first faces you encounter — not yet out of the baggage claim, even — are those of a friendly, familiar PR team who immediately furnish you with a press release, it's fair to say that you're very much at a film festival, even if Venice hasn't yet officially drawn the curtains on this year's edition.
At the moment, things are still at the assembly stage: I'm currently sitting in the wi-fi lounge of the festival center — a cavernous space of 30-foot ceilings, gold-mosaic marble walls and rippling red curtains that is surely the most incongruously grandiose room ever set aside for the Great Unshaven of film journalism — watching garrulous workmen argue about the placement of couches, while others disentangle the wires sprouting from a teetering tower of AV equipment.
Tomorrow, by the time I roll into the first 9 a.m. screening of "Black Swan" — caffeine-wired and perhaps still pajama-clad — you'd never know they'd been there.
And that's really all I have to report from the day. I considered racing from the airport straight into a pair of advance press screenings, but opted instead to allow extra time for admin and ice cream: a sensible call, given that the accreditation process was as cheerfully convoluted as only the Italians can manage. Meanwhile, a reliable friend who did catch the films — Bertrand Blier's awkwardly titled (or at least translated) "The Clink of Ice" and Paul Gordon's Amerindie comedy "The Happy Poet" — assures me that the former is "bloody awful" and the latter rather worse than that. And with such word of mouth an invaluable compass in festival-land, down they move to the bottom of tomorrow's priority list. Good times.
All of which frees me up to seek out a nice beachside bar, order a stiff celebratory drink and go to bed at a positively prepubescent time — this day started at 4 a.m., I might add — so as to be fresh, fighting and ready for whatever amount of crazy Darren Aronofsky hurls at us tomorrow morning. I realize many of you are champing at the bit for a quick reaction to the film, and I'll do my best to oblige. That said, it will surely demand a considered, full-length review, and you know those don't write themselves in minutes, particularly on a day with several other titles of interest.
For the truly impatient, however, I will continue my Cannes practice of Twittering my earliest response to significant festival films. Brave new world out there, and I may as well live in it.
[Photo: Miriadna]