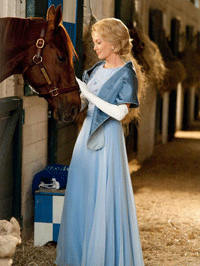 So nine years ago yesterday I started a crappy, embarrassing little amateur site on Yahoo!'s now defunct Geocities platform and called it Oscar Central. It was a way to blow off steam in film school, maybe fold an offline hobby (Oscar-watching, predicting, obsessing) into an online community that seemed to already have healthy numbers. Plus, hey, it was the early years. I figured some low tech internet training was far from the worst thing I could be doing.
That's a long way of saying today kicks off my 10th season of Oscar coverage online, and in that decade, plenty has changed. One thing has remained the same, however, and that is a focused interest, both from myself and a growing readership, in the admittedly arbitrary and somewhat solipsistic process of awarding the "best" in filmed art and entertainment.
To put it more succinctly: Here we go again.
The 2010-2011 Oscar season takes its first real steps Wednesday as the 67th annual Venice Film Festival sets sail on the Lido. That opening night will see Darren Aronofsky's "Black Swan" get its toes wet as Fox Searchlight tests the season's waters, perhaps with a worthy follow-up to the director's 2008 awards title "The Wrestler," perhaps not. Two days later the 37th annual Telluride Film Festival lifts its curtain in the mountains of Colorado, bringing any number of "surprise" bows (we all know what they'll be but, again, I'll respect the fest's wishes in this space), before Toronto's media circus fills in the cracks and brings us to mid-September and the fiery beginnings of Oscar's 83rd barbecue.
Much will be answered during those 18 days. Paths will be paved, strategies set and publicity ranks fortified as the dog and pony show that is the film awards season starts anew. But here on the northern edge of the season's Rubicon, the die has not yet been cast. The possibilities are still endless, any and all speculation fair. Intuition and phantom buzz mingles nicely in these twilight moments, yielding multiple interpretations of the oncoming, still faceless beast.
You might, for instance, hang a lot of consideration on release date decisions and the idea that strategy foundations are already solidified before waves of critical eyes have fallen on the merchandise (forgive the vulgar term). You might make the usual calls to the precious few actually in the know in this calm before the storm. You might start the snark early by poking fun at people for dutifully reminding you of their modest contenders, or you might fight off stagnated group think by searching for alternative vantage points.
Personally, I try to take a deep breath. Because you get few chances to do so on this roller coaster of shifting perception, narrative and endgame. The season itself is alive, a breathing organism observed from conception through maturity to natural expiration. Like all great stories, it has a beginning a middle and an end, and so we find ourselves bathed in prologue.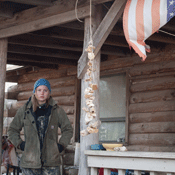 It's always proper to give thanks for the brave souls of potential that have landed outside Oscar's back-loaded tramping ground. Films like "Shutter Island," "Winter's Bone," "The Kids Are All Right," "Inception," "Toy Story 3" (to be sure), "Get Low" and "How to Train Your Dragon" may find their way to Oscar's recently expanded center ring, but they would do so on a longer timeline more demanding of endurance. And they serve as mere introduction to chapters yet to be revealed.
Most conversations at this stage yield an inevitable, "It looks like a weak year." But as I glance across the landscape of contenders, I see that, indeed, 2010 doesn't look to be a banner season. Nothing really has the hallmark of bona fide awards flavor in any big way, and that's probably a good thing. It lowers the expectation to manageable levels and keeps the canvas uncluttered in the early stages.
After taking a year away from the Best Picture fray, 2008 victor Fox Searchlight is back in a big way with four films that could gain traction. They are Darren Aronofsky's "Black Swan," Danny Boyle's "Slumdog Millionaire" follow-up "127 Hours," the Hilary Swank starrer "Conviction" and Mark Romanek's adaptation "Never Let Me Go." Each film may have its drawbacks but four shots on goal is plenty for this savvy studio to work with.
Most of the other usual season suspects seem to have clearly defined "big dogs" ready to take on the circuit. Focus Features is serious about "The Kids Are All Right" as an Oscar play (not, as some seem to suspect, Sofia Coppola's "Somewhere"); Sony Pictures Classics has Mike Leigh's Cannes hit "Another Year" leading the way (though more and more effort is being put behind summer indie "Get Low"); Paramount is excited about the prospects of David O. Russell's boxing biopic "The Fighter" (before having seen anything of the Coens' "True Grit," mind you); Sony will have it's eggs in "The Social Network"'s basket (though the last minute entry of "The Tourist" might be worth keeping an eye on); and "The King's Speech" will likely be the easiest get for The Weinstein Company (though word is a run at the big prize could be in store for the foreign "The Concert").
Warner Bros. will see what it can get for "Inception" but has the potential for another wave of Clint Eastwood support in "Hereafter"; Disney has a sure-thing in "Toy Story 3," but has been showing "Secretariat" to measured approval; indie venue Roadside Attractions will try to step up its game with "Biutiful" and "Winter's Bone" (though scuttlebutt regarding parent Lionsgate is that Tyler Perry's "For Colored Girls Who Have Considered Suicide When the Rainbow is Enuf" could get yanked into December for a run); Fox follows up the monstrous year of "Avatar" with more modest comedy stylings in "Love & Other Drugs" and perhaps some good will for "Wall Street: Money Never Sleeps"; and Universal will, perhaps happily, watch from the sidelines for a second year in a row.
And as broad early summaries go, that's about it. Any number of surprises tend to lurk, so hold on.  It's a long, bumpy ride.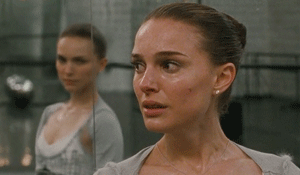 The sidebar predictions have been updated and the Contenders section has been polished, adding a simple ranking system.  I know a number of folks bemoaned the loss of the charts last season so I figured it wouldn't hurt to give an ordered indication of my thoughts.  I won't be keeping up with the shifting and sliding, though.  A quick note: anything currently lacking a domestic distributor has been relegated to the "rest of the field" sections of each category for now.  And as we await the release date fate of "The Tree of Life," which could yet move to 2011, I thought it best to shuffle it to the bottom of the deck throughout for the time being.
We'll revisit things next week, after a number of the unseen finally get their moment to impress.
In closing, a few notes on our impending coverage this season: First, Guy's correspondence from the Venice Film Festival kicks off Wednesday.  I'll again make the trek to Telluride this year, coverage starting Friday. We will not, however, have a presence at the Toronto festival for the first time in four years. Between Venice, Telluride and whatever studios plan to screen here in LA during that span, I think we'll be properly covered regardless.  We'll miss a handful of early looks, but that stuff will make its way to screening rooms in town shortly after the overly stuffed Toronto fest winds down.
Anne Thompson and I are hoping to keep the weekly Oscar Talk series going while we're separately attending the Venice and Telluride fests.  It could get tricky, but we're aiming for a new edition on September 3.  Regardless, after festival madness subsides, it'll be weekly (Fridays), uninterrupted, throughout the season.
When Guy gets back from Venice and after Toronto concludes, he will again launch his own Oscar column, The Long Shot, on September 22.  That will run every Wednesday throughout the season.
After completing a first round of crafts category forecasting via his Tech Support column on September 9, Gerard's corner of the site will take a break for a couple of weeks as the September festivals wrap themselves up.  In that time I'm thinking about writing up a couple of Tech Support specials for the season, as I quite miss writing in depth about those categories.  I haven't quite put my finger on what they'll be yet, but Gerard's second volumes will pick back up in early October and conclude early-to-mid December, when our annual Tech Support interview series will launch once more.
Finally, we're sad to see Chad Hartigan retire his box office coverage on the site following yesterday's final installment of Sunday Cents on the last weekend of the summer movie season.  Since that first post in March of last year, Chad's has been a unique and refreshing voice around these parts, one I'm sure you've all enjoyed reading and, many times, debating.  His work as a box office analyst in the industry is in flux and he's putting the extra energy toward developing his second feature.  Hopefully I'll join him on that side of the line one of these days, but for now, color me jealous.  He will, however, see his Life Without Oscar series to its end in December.  So don't fret.
We're looking forward to a great season and hope you are, too.  Now, take that deep breath…
[Photos: Walt Disney Pictures, Roadside Attractions, Fox Searchlight Pictures]