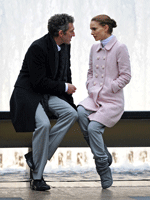 It goes without saying one of the most anticipated films of the fall movie season is Darren Aronofsky's "Black Swan." Going by the trailer, we're in for a slice of genre goodness that taps many of the muscles the director has flexed early in his career.
In an interview with MTV, Aronofsky offers an intriguing bit of trivia: his latest film and 2008's "The Wrestler" actually started out as one film.  It seems his 10-year-old original concept involved a professional wrestler falling in love with a professional ballet dancer.  The mind reels.
I imagine it would have been fascinating territory to cover, but the germ split off into two separate films.  Eventually Aronofsky worked with Robert Siegel's on an original screenplay and saved the ballet stuff for the film opening the Venice film festival in just two days.
Says Aronofsky:
I've always considered the two films companion pieces…They are really connected and people will see the connections. It's funny, because wrestling some consider the lowest art — if they would even call it art — and ballet some people consider the highest art. But what was amazing to me was how similar the performers in both of these worlds are. They both make incredible use of their bodies to express themselves.
Great interview.  Check out the rest at MTV.
Meanwhile, it seems Aronofsky is one of the directors up for the dreaded sequel to "X-Men Origins: Wolverine." I'm sure I'm not alone in hoping he doesn't do it.
[Photo: Zimbio]