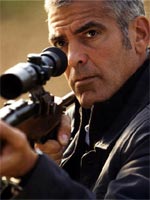 Amid the growing buzz for the films about to make the festival rounds over the next two weeks, it's easy to forget that one rather high-end title is hitting theaters as soon as Wednesday.
Anton Corbijn's hitman drama "The American," starring George Clooney, was once expected to be in the festival pack — certain rumours had it opening Venice at one point — but Focus Features took us off-guard, settling instead on a release date that pre-empts the festival rush.
Naturally, this change of course prompted chatter that the film wasn't awards fodder (not something it ever especially appeared to be) and that it was more of a commercial play. That, however, certainly isn't the impression left by this extensive LA Times piece on the film, which emphasises the "European" nature of the film's tone and pacing — a gentle way of saying that it lies on the slower, more oblique end of the spectrum.
This should hardly come as a surprise: Corbijn is a doomy Dutch artist, and the film is based on a literate British novel boasting, as the article states, no "discernible moral compass,", so a pulpy Hollywood thriller was never on the cards here. Producer Grant Heslov, it would appear, is already bracing himself for a troublesome audience response:
"This wasn't one where we said, 'We're doing an "Ocean's Eleven" franchise,'" Heslov says of the film's overall European tone and structure. "On a $70-million film, it's less of an art form. That's just a fact. Anton is an artist. And he's never going to tell a movie in a straightforward way. He's willing to sit on a shot for a while and not cut away. There are going to be people who are going to be absolutely frustrated by it.
What's most intriguing, moreover, is Clooney's assertion that the film is a homage of sorts to the "'70s foreign films that influenced so many great filmmakers today"; he doesn't specify which vein of foreign cinema, but I'm optimistically wondering if, say, Antonioni's "The Passenger" is on the mood board. What it doesn't explain, though, is why a film aiming so high would just barely duck out of the festival parade.
The film also gets rather loftily written up (Clooney's character is described as "a solitary figure who wants to find romance and redemption, despite his escalating inner turmoil") in this article posted on the Focus site, in which Scott Macaulay describes its place in the broader history of hitman movies. (Of course, that's a pretty stock line: wasn't "Up in the Air" about the same thing?)
[Photo: Focus Features]