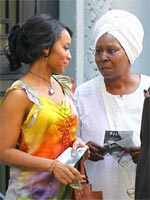 One thing I like about David Poland as an awards analyst is that he often makes an effort to expand the tight circle of contenders by bringing little-buzzed names into the conversation. Needless to say, this kind of punditry can lead to a lot of dead ends, but every now and then he lands on a genuine sleeper — which is why this casual aside in his Friday box-office column caught my eye:
Of the current 16 [Lionsgate] $20m domestic openers, 7 are Tyler Perry (which is why For Colored Girls… is a lock to end up in this year's Oscar race come December)…
In case it hasn't been on your radar, he's talking about "For Colored Girls Who Have Considered Suicide When the Rainbow is Enuf," Perry's filmization of Ntozake Shange's landmark 1975 stage study of the African-American female experience. The play, a poetry-based piece taking on issues of abuse, rape, abortion and eventual empowerment, is pretty strong medicine; it's difficult to imagine how it might work on film, and how it'll mesh with Perry's brash creative sensibility.
Obviously, the built-in audience for the film is substantial, though for many awards voters, it's a niche item. Poland is obviously expecting the film to follow in the footsteps of "Precious," arguably a daughter of sorts to Shange's work, which broke down Oscar's usual resistance to African-American-oriented material — and which, of course, bore Perry's name as executive producer, raising his profile amongst Academy types.
Still, "Precious" entered the race on a wave of festival-acquired respectability; it's doubtful whether voters would have sought it out without the prior approval of Sundance, Cannes and Toronto. "For Colored Girls…" will have no such advantage — indeed, the film is currently scheduled as a January 2011 release, though Poland asserts that it's "99.9% sure" to be yanked forward into this year's race.
I'm sceptical, but interested. For one thing, the film's vast female ensemble includes Whoopi Goldberg, Thandie Newton, Kerry Washington, Janet Jackson, Phylicia Rashad, Anika Noni Rose, Kimberly Elise, Loretta Devine and Macy Gray, and any film that offers us the remote possibility of seeing the last-named lady on the red carpet has my full support.
Meanwhile, Perry's stock is rising across the pond too: next week, "Why Did I Get Married Too?" will become his first film to get a theatrical release in the UK.
What say you? Has "For Colored Girls…" been on your radar? Is Poland off his rocker, or genuinely onto something?
[Photo: Black Voices]