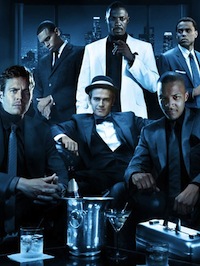 *All historical figures cited are adjusted to today's dollars.
One last bit of excitement before the summer ends and Tapley starts posting random Redskins photos on Sundays. We have a dead heat race for the top spot at the box office, but estimates are handing the crown to "The Last Exorcism." If it does, indeed, win the weekend, it will be the first time Lionsgate has had two consecutive number one films.
The official estimate is $21.3 million, which puts it just a fraction behind the $23.1 million debut of "Exorcist: The Beginning" on this same weekend of 2004. It's also a smidge behind the $24.5 mil debut of Lionsgate's similar looking 2009 shocker, "The Haunting in Connecticut," but let's remember that this is a no budget endeavor with no recognizable actors that the studio had to market with smarts and Eli Roth's name.
Incidentally, they couldn't use Roth's name to market his own movie, "Hostel Part II," to a debut past $9.5 million, but the man can't win them all. Now we just sit back and wait for the inevitable porno knock-off called "The Last Circumcision."
Hot on the devil's heels is "Takers." Sony once again turned straw into gold with an estimated debut of $21.0 million. Throw this in the pile of films that should never have made a cent but wound up significant hits, with "Vantage Point," "21," and "Lakeview Terrace." Now we just sit back and wait for the inevitable porno knock-off called "Takers."
"The Expendables" and "Eat Pray Love" continue to drop around the same (40%) each week yet remain in the top 5 thanks to weak competition. And we've all seen what Stallone does to weak competition (he rips their throats out of their neck with his bare hand). Roberts is more of an eater, prayer and lover than a fighter, but her box office muscle is no less impressive.
Of the five movies released last week, only "Nanny McPhee Returns" and "The Switch" could manage to hold more than half their audience. The ones marketed around warts and sperm. Duly noted. "Vampires Suck" and "Piranha 3D" both fell 57%, while "Lottery Ticket" flew out of the top 10 in almost record speed.
It's left to "Inception" and "The Other Guys" to show us what decent legs look like. Both films dropped 35% and the latter is a whisker away from being the fourth consecutive Ferrell/McKay collaboration to break $100 million. For Wahlberg, it will be only his second non-remake to hit that target, after "The Perfect Storm." For Anne Heche, it's a couple more hits for her IMDb page with people trying to remember who that woman in the movie is.
"Avatar: The Special Edition" opened outside the top 10, with $4.0 million. On only 812 3D screens, that was good enough to give it the third best per theater average of any wide release, so don't go shedding any tears for Fox. They could release "Avatar: The Papier-Mâché Edition" and probably get a couple million out of it.
I didn't see anything yet again this week. Seems like forever since I've been to the theater, but I'm looking forward to catching "The American" on Wednesday if I can. I'll see you guys on Wednesdays with the Life Without Oscar columns and I'll still be trolling around the comments as well, but that's it for Sunday Cents. Thanks for reading!
What did you guys see? Here are this week's top grossing films courtesy of Exhibitor Relations: