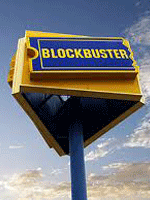 With Blockbuster Video preparing to go into Chapter 11 next month, it seems like it's the end of an era…even if it was a long, painful, downward spiral of an end.
The first video store I ever frequented was a company called Doorstep Video in the early 1990s.  But not long after I began going to the Blockbuster across the street, a typical store, on the corner of Brenner and Fairson Avenues in Salisbury, North Carolina.  I remember it well.
I remember discovering movie after movie walking the aisles as a high school student nursing the flame of cinema passion.  I remember buying VHS copies of "2001: A Space Odyssey," "A Clockwork Orange," "Goodfellas," "Taxi Driver," "Heat," "The Usual Suspects," "Apocalypse Now," "Platoon" and "Midnight Express" there.
I remember going and perusing the new releases section with my parents, looking for something to watch on a Friday night.  I remember the way the sun blasted consistently on one side of the building throughout the day, fading the box art on certain titles.  And, peripheral to movies, I remember Sonic the Hedgehog 2 and NBA Jam tournaments hosted by the company.
I don't even think it's there anymore, but I remember it.
This isn't a requiem to Blockbuster, though.  It's a requiem to a certain process.  It was inevitable that the progression of film delivery systems would yield things like mailers, online streaming and kiosks (which is where Blockbuster is heading).  But Blockbuster and its ilk have always kind of been there as a reminder of another time.  I've been up the street to my local store a couple of times and it still brings in customers, but it's almost novel to walk in there these days.
I genuinely miss the way I discovered those gems long ago, grabbing a box, turning it over, reading the summaries and the inevitable Peter Travers quote.  And I feel kind of bad that future generations will experience that less and less as, I think we can all imagine, one of these days DVDs and Blu-rays will stop flying off the shelves of retailers just as they stopped flying off the shelves of rental outfits.
Is scanning a film's info on a computer screen comparable to grabbing a box and turning it over in your hands?  I don't know.  Probably.  But there's something disconnected about it, less intimate.  Maybe I'm crazy, maybe I'm pathetically nostalgic, I don't know.  But reading that story and knowing the days were numbered anyway, it's just…a bummer.
So, sayonara, Blockbuster.  Thanks for the memories.
[Photo: Weblo]