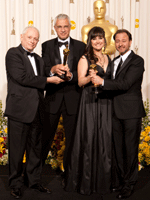 I sometimes wonder what Louis Psihoyos might have been able to convey to a massive television audience if Fisher Stevens hadn't bum-rushed the microphone when "The Cove" won Best Documentary, and/or Oscarcast producers Adam Shankman and Bill Mechanic hadn't decided to play Psihoyos off before he had a chance to speak up (all on account of a harmless banner Ric O'Barry unspooled and held on high).
In any case, the film has been on DVD for some time now and has found a modest audience, but it'll have its prime time television debut this Sunday, August 29.  Animal Planet will premiere the film at 9:00pm EST, so tell a friend.
Meanwhile, as Guy reminded us yesterday and Anne and I discussed this morning, the documentary feature category is looking like a race for the ages this year.  What do you think will be left standing when the awards dust clears at the Kodak in February?
[Photo: ScienceNewsBlog]