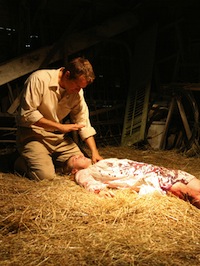 *All historical figures cited are adjusted to today's dollars.
It's the last full weekend of the summer, the last weekend of me being 27, and the last weekend for Friday Forecast on InContention. A time of introspection. A time of reflection. A time of paying another $20 to see those blue things in 3D again. I can't wait to not see it again… for the first time.
The dog days of August are notoriously tough on the multiplex as kids start heading back to school so don't expect any Oscar nominations for this week's crop of films. Leading the pack is "The Last Exorcism" from Lionsgate. This could be the first time in that company's history that one of its films takes the top spot away from another one of its films. A low budget faux-documentary, Lionsgate picked up distribution rights and has sold it fantastically with sharp trailers and posters.
Exorcism is a foolproof box office meme, with Sony able to milk a $37.3 million debut for "The Exorcism of Emily Rose" in September 2005. That film had some movie stars and a true story hook, while Lionsgate is definitely no Sony, but we should still be looking at a strong opening for the film. Something like $18 million, but if Lionsgate can get some stories printed about audience members puking, then you can bump that up to $22 million.
Speaking of Sony, they finally release "Takers," which has bounced around the schedule for a year. The crime/drama stars Paul Walker and Hayden Christensen, once and for all putting to rest confusion that they are the same person, as well as America's favorite woman-beater, Chris Brown. With a cast like that, how can it fail? This is the type of movie that Sony always turns into an overperformer, but with "Exorcism" stealing the young adult dollars, I think it will be a more subdued $11 million start and second place.
Remember when we saw "Avatar" in the theaters guys? Good times, right? I just wish we could do that again, but with a few extra minutes of establishing shots and a weirdo sex scene. What? James Cameron has answered my prayers? "Avatar: The Let's Make More Money Edition" arrives in 812 theaters and will probably do really well. Nevermind that the thing is already on DVD or that I'm maybe the only person on the planet who hasn't seen it already. Another $7 million or so will help Cameron afford that small planet he's had his eye on.
Where does this leave "The Expendables" you ask? Well, it's certain that the film won't become Stallone's first weekend threepeat since "Rocky IV," but it will also shortly pass "Rocky Balboa" to become his most successful film since "The Specialist." You know, the one with the super awkward Sharon Stone sex scenes. That doesn't really narrow down Stone films, does it?
Last week's films are barely worth mentioning. "Vampires Suck" should plummet, along with "Lottery Ticket" and "Piranha 3D." "Nanny McPhee Returns" and "The Switch" could fare a little better, but we're still talking around 40% drops. The sooner we can collectively forget about these films, the better.
You know when gas prices get raised from $2 to $4 during the summer, everyone gets pissed, but still pays the $4 and then when gas goes down to $3, everyone is psyched, totally forgetting that we should be paying $2. That's like late summer movies. We've been paying for "Vampires Suck" and "The Switch" so now when we get mediocre Oscar bait, we'll leap out of our seats to praise it. Classic Hollywood.
Alright, that's it for Friday Forecast. Let's see how well we do on Sunday and give the box office column a proper kiss off. What are you guys seeing?
[Photo: Lionsgate]