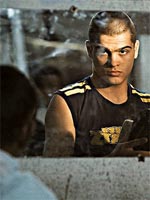 I was waiting for news of these to begin trickling in… in my memory, the flood of official submissions for the Best Foreign Language Film Oscar usually begins earlier than August. Anyway, we're there, so expect a lot more of these updates between now and October 1, the Academy's formal (if not entirely inflexible) deadline for participating countries to enter their films.
The first three confirmed entries come from Taiwan, Romania and Iraq — the latter two countries awaiting their first nominations in the category, while Taiwan seeks to return to the race for the first time since its sole win, with "Crouching Tiger, Hidden Dragon," a decade ago.
The most high-profile of the three is Romania's pick: Florin Serban's debut feature "If I Want to Whistle, I Whistle," was one of the few critically embraced Competition titles at February's Berlin Film Festival, where it scooped the runner-up Silver Bear prize. As is my wont at festivals, it seems, I missed it both at Berlin and at Edinburgh, though I've heard glowing reports from colleagues of the film, a character study of a teenager, on the brink of release from a detention center, whose rehabilitation is disrupted when his neglectful mother re-enters his life.
(More, including trailers for all three films, after the jump.)
It should be said that the country had a relatively tough choice to make: their other options included "Aurora" and "Tuesday, After Christmas," both of which played in the Cannes Un Certain Regard strand to general acclaim. (I was less enthused.) In particular, I thought the latter film, a sensitive, precisely etched marital drama, had what it took to break the country's duck in this category — though I should have known they'd pick the contender I haven't seen, just to punish me.
Most would agree Romania is somewhat due for recognition in this category, the Academy having thus far ignored the country's much-vaunted new wave of filmmaking — in recent years, critically beloved entries like "The Death of Mr. Lazarescu," "Police, Adjective" and, most controversially, "4 Months, 3 Weeks and 2 Days" have all failed to crack even the Oscar shortlist. The deliberate pacing and mordant tone of much new Romanian cinema is a taste voters have yet to acquire, and I'm not sure if the reportedly bleak "If I Want to Whistle, I Whistle" is the film to change that.
Meanwhile, Taiwan isn't exactly following a safe formula for Oscar success by selecting "Monga," a 1980s-set gangster epic as their pony. (Their initial pick, the youth romance "Hear Me," was declared ineligible by virtue of its too-early release date.) The film also played Berlin, apparently, though I confess it didn't cross my radar. Knowing little about the film beyond what is shown in the trailer below, I can't comment on the wisdom of the choice, though I'll admit my fingers were crossed that another Berlin entry, Arvin Chen's delightful "Au Revoir, Taipei," might get submitted — even if Chen's American nationality made that somewhat unlikely.
Finally, Iraq's submission is "Son of Babylon," which was warmly received at both the Sundance Film Festival, where it competed in the World Dramatic strand, and, again, the Berlinale. (Guess what — I missed it. I did watch some films at Berlin, honest.) This one sounds rather more up the Academy's alley: a road movie of sorts, it follows the journey taken by a young boy (check) and his stoic grandmother (check) in search of his long-lost father (check), following the fall of Saddam Hussein. Reviews feature recurring adjectives like "heartbreaking," "devastating" and "well-intentioned"; partially funded by both the Sundance Institute and the now-defunct UK Film Council, this could be one to keep an eye on.
Check out the films' respective trailers below. We'll do our best to keep you updated as more submissions are announced; like last year, Kris will soon set up a separate page where you can follow the growing list. International readers, feel free to update us with news of your own country's selection procedure.
(Thanks to Nathaniel Rogers for the tip on "Monga," and to Chris Bourne for the link to the film's trailer.)
[Photo: SBS Films]