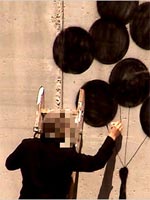 As we enter the fall festival season with an Oscar prediction sheet still covered in question marks, there is at least one category where almost all the viable contenders have already been seen. I speak, of course, of Best Documentary Feature, a race already crowded with possibilities from earlier fests and the summer release calendar, and with a submission deadline less than a week away.
Over at The Odds, Steve Pond informs us that filmmakers have until September 1 to enter their docs for Oscar consideration, having completed qualifying theatrical runs (one week minimum) in the past 12 months. Sifting through the titles in play, Pond likes the chances of such heavily-buzzed titles as "Restrepo," "Inside Job" and "A Film Unfinished."
All three films take on weighty subjects — respectively, the conflict in Afghanistan, the global economic crisis and (a well-known pet theme of the Academy) the Holocaust — which should stand them in good stead with a voting branch not renowned for its sense of humor.
With that in mind, Pond wonders whether such subversive pop documentaries as Banksy's "Exit Through the Gift Shop" and Casey Affleck's "I'm Still Here" (assuming the latter is anything more than a meta goof-off) stand any chance of recognition. (He doesn't mention the well-liked "Joan Rivers: A Piece of Work," a more straightforward film that faces the same obstacle.)
Year after year, the longlist of documentaries selected by the Academy features a couple of high-profile snubs widely decried by the critical community; last year's was the bitterly comic rock doc "Anvil! The Story of Anvil," only the latest in a long line of examples of this branch's general resistance to irony and to popular culture. (In terms of subject matter, "Man on Wire" is a recent exception, though it still took the form of a solemn eulogy.)
For this and several other reasons, not least of which is Banksy's novice filmmaker/prankster status, I'm concerned that "Exit Through the Gift Shop" — one of the wittiest and most inventive films of 2010 — could wind up in the same position as "Anvil!," though I'd very much like to be wrong.
This disadvantage is described as the "serious ceiling" by blogger A.J. Schnack, whose site All These Wonderful Things is required reading for anyone wishing to keep up with the documentary scene. Schnack covered the subject in a blog post back in June, mentioning many of the titles brought up by Pond, while also going to bat for Josh Fox's environmental doc "Gasland," described as "one of the year's best and most important films." "Importance" is clearly not in short supply among this year's contenders, but here's hoping the eventual Oscar lineup isn't all work and no play.
[Photo: New York Times]