Catch up with the idea behind this series here.
As the 60's came to a close, Oscar decided to embrace its dirty side and give X-rated "Midnight Cowboy" the top prize. Coming a year after "Oliver!" makes it quite a juxtaposition and the film remains one of the most interesting picks by the Academy, particularly as it triumphed in the "Year of the Western."
"The Wild Bunch," "True Grit," "Paint Your Wagon" and "Butch Cassidy and the Sundance Kid" all found themselves up for top prizes in a year that Tapley would probably have died to cover. Also great to see "Z" become the second foreign language Best Picture nominee in a year that Wikipedia claims is still the highest rated Oscar telecast ever. Take note current producers- there was no host and it lasted 145 minutes.
The 70's were introduced with "Patton" earning Best Picture. War, epic, biopic, strong male lead; it completely fits the bill for a Best Picture winner. Of course, George C. Scott would famously become the first actor to refuse his award this year.
It was also the year The Beatles finally won an Oscar (for "Let it Be") but had already broken up and failed to appear. Timely as ever, Academy.
1969 – "The Honeymoon Killers" (Leonard Kastle)
Low budget crime movies were never going to capture the Academy's attention, but the one and only film directed by Leonard Kastle now stands as a shining example of the brash, bold wave of filmmakers that changed the game at the turn of this decade. "Easy Rider" was the poster child, accepted by mainstream Hollywood, while "Mean Streets" was only a few years away from announcing a new master. Incidentally, Martin Scorsese was the original director of this film but was fired for working too slowly.
Screenwriter Kastle stepped in and did a hell of a job. Naivety or inexperience can sometimes be a virtue and some of "The Honeymoon Killers" looks like it was directed by someone who had never seen a movie before. Crazy, handheld camera would transition into exquisite zooms. The tone of the film could switch from romantic to farce to horror in seconds. Crucially though, the characters never seem anything but real and their relationship is 100% convincing throughout. For a true story about two despicable murderers, that goes a long way.
In fact, I would call it one of the most interesting and strangely beautiful romances ever put on screen. For starters, Shirley Stoler is not your typical leading lady. She actually looks like someone who might need to resort to a classified ad to find a lover, unlike Beverly D'Angelo or Salma Hayek, who have both tackled the same role in Hollywood remakes. Her obsession with Tony Lo Bianco is unhealthy, but understandable given the way he showers affection on her in the films early, more tender scenes. Lo Bianco, respectfully, is no Warren Beatty either which helps keep the film grounded and away from "mythic" portrayals of these killers.
Kastle goes to great lengths to get the audience on the side of the killers, but then lends equal humanity to each one of their victims, making every murder as uncomfortable and chilling to watch as they should be. These murders take time and effort and it's incredibly difficult, but rewarding, to watch. Rewarding in the sense that a film doesn't need a complicated plot to require the brain to stay active (cough, "Inception"), it just needs to give us some conflicting presentations or imprecise motives and our imaginations run riot. I can't tell you how many times I changed my mind about my sympathies for the main characters here.
As someone who really dislikes violence in films, if you make me watch violent acts, it better have a good purpose. In most cases, it would be to illustrate the effect it has on the characters, but here it's the even more chilling example of the non-effect it has on the characters. It's important to note though, that it has profound effect on the audience. If you can watch the scene where Kastle uses a slow zoom in to, and prolonged close up of, a victim's eyes as she helplessly listens to her assailants discuss her murder without thinking you are watching something truly special, then I don't know what to say.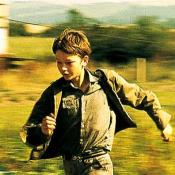 1970 – "Kes" (Ken Loach)
I despise the term "coming-of-age". Not only because it's used as a blanket description for anything involving kids but because it implies that through the course of the 90-minute narrative, our lead character has literally learned all of his life lessons. Either that's not accurate or it's a terrible movie. "Kes" is a towering example of a film choosing a moment in time, capturing it with marvelous, ambiguous accuracy and being pegged as a "coming of age." Why? I guess because it stars a child.
Billy fights with his brother, has no father around and gets in trouble at school. He finds and trains a hawk, giving him some welcome respite from the daily trials and tribulations of living in Yorkshire, where becoming a miner is more or less your only option. The obvious symbolism being that Kes can fly around and be free in ways that Billy can't, but the film is not about obvious symbolism. The only thing Loach seems to care about is realism and detail, both of which are captured magnificently.
Why else spend fifteen minutes on a scene where Billy and his classmates play football in P.E. class? Why else have a scene where kids get disciplined by the headmaster, anchored by a character who only appears for that one instance (one of the most heartbreaking things I've ever seen by the way)? The answer is so that we know what a P.E. class was like for those kids. So we know what getting disciplined was like. Scene after scene adds more color to an already exquisite canvas and I just couldn't believe the performances achieved by the young actors. Non-actors rather.
I've read some criticism of their acting and find it absolutely unbelievable. First of all, they're not acting because they wouldn't know how. Second of all, this shows in one or two spots where it's a little obvious that they are trying to hit a beat or a line and it becomes a bit stilted. But I would make that trade-off any day of the week for the rewards it reaps in the scenes that really matter. David Bradley's Billy is on a very small list of onscreen portraits of children that succeeds effortlessly by letting the actor play a child instead of a miniature adult. He is never less than 100% captivating, most notably in a scene where he gets to explain how he trains his hawk to the entire class.
It's no surprise that the film failed to find any favor with the Academy because it also failed to ever get a U.S. release. Thankfully, Loach went on to do many more amazing films and his entire catalog is currently available to discover.
Those are my picks. There are plenty of films worthy of an honorable mention but I'll resist and see if any of them pop up in the comments. Hope you guys are still enjoying the series.
[Photo: Village Voice]
[Photo: Free]