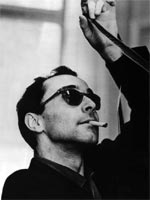 So, you'd think that five competitive Oscars — three for writing, one apiece for producing and directing — would count as an elegant sufficiency of awardage for even the most revered talent in the industry.
Not so, apparently, in the case of a certain Francis Ford Coppola. In their wisdom, AMPAS brass have decided that Coppola needs a sixth statuette, this time the Irving G. Thalberg Memorial Award for production excellence. I can only speculate that they still feel really bad about "Kramer vs. Kramer" beating "Apocalypse Now" in 1979. As well they should.
Of course, this news comes minutes after I opined in our speculation thread that honorary awards for previous Oscar champs tend to feel a little superfluous. Goes to show why I'm not an Academy member. Still, from that point of view, I must applaud the most outré of this year's choices: Jean-Luc Godard.
Just as they did with Roger Corman last year, Academy Governors have sensibly used the honorary Oscar as a way of awarding a vital filmmaker whose work the general votership nonetheless wouldn't touch with a bargepole; as unbelievable as it may seem to casual awards-watchers, no Godard film has ever been graced with an Oscar nod, even in the foreign-language category. It's commendable of AMPAS to embrace a filmmaker who couldn't be more hostilely opposed to everything they stand for; whether Godard turns up to accept the honor is another question.
Meanwhile, you'd have to be pretty churlish to take issue with the selection of veteran character actor Eli Wallach, never previously nominated despite years of vivid contributions to the likes of "The Good, the Bad and the Ugly," "Baby Doll" and "The Magnificent Seven." (Meanwhile, it's a rather sweet coincidence that he should be honored alongside his "Godfather Part III" director.)
Finally, the least well-known name here is perhaps the most laudable of all the Academy's picks this year. British film historian and documentarian Kevin Brownlow has been an invaluable figure in the preservation and promotion of silent cinema, responsible for a number of essential texts and documentaries on the subject, as well as masterminding the 1981 restoration of Abel Gance's "Napoleon."
Good on Oscar for recognizing Brownlow's career, as well as those of the other three honorees. My only regret is that the general public will remain completely blind to their achievements as the honorary Oscars are once more sidelined to a separate, untelevised, ceremony on November 13. On the one hand, I suppose it's nice for the individuals being honored to have a whole evening devoted to their achievements; on the other, here's hoping the Oscarcast directors find a less clumsily dismissive way of acknowledging them than they did with Lauren Bacall and company earlier this year.
[Photo: TomDiCillo.com]