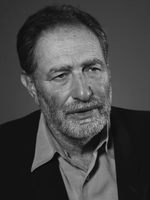 Screenwriter Eric Roth, as ever, has a plate full of projects these days.  When he's not working through an NFL-sanctioned Vincent Lombardi biopic with Robert De Niro, he's perhaps working on his adaptation of Erik Larson's "The Devil in the White City."
Then there are original scripts that have been lying around, waiting for filmmakers to step up.  The Brad Pitt-attached "Hatfields and McCoys," for instance, which was one of a number of possibilities bandied about for Scott Cooper's "Crazy Heart" follow-up.  And one of these days I imagine Roth and Michael Mann will get back to that western they've been talking about.
In case you hadn't heard, Roth's adaptation of Jonathan Safran's "Extremely Loud and Incredibly Close," which he's been working on for the better part of a year, recently landed a greenlight with Tom Hanks and Sandra Bullock set to star.  Scott Rudin is producing.  The screenwriter also recently participated in AMPAS's film noir interview series.  Callie Khouri, Scott Frank and Lawrence Kasdan are a few of the other writers offering up their thoughts on the genre.  Give them a look here.