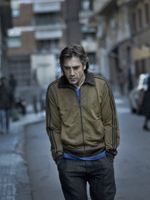 This announcement has been imminent for a couple of weeks now, but I guess the i's (and lowercase j's) and t's are finally crossed and dotted.
Alejandro González Iñárritu's "Biutiful" will be distributed by Roadside Attractions and Liddell Entertainmnet.  Roadside also has indie "Winter's Bone" in the mix this year and got its awards season feet wet for the first time last year with "The Cove." There will, I imagine, be a considerable push for Javier Bardem in the lead actor race.
The film was generally well received, but while there were rabid advocates, there were also a fair share of detractors, making for a tale of two movies.  Our own Guy Lodge called it "an effortfully solemn amalgamation of personal crises and social concerns" that "paints from too limited an emotional palette for its high-stakes story of parental duty, in the face of hovering mortality, to hit home the way it should."
The film will play the fall festival circuit.  I'll have a look then.
Meanwhile, Magnolia Pictures has acquired "All Good Things," the narrative feature debut of "Capturing the Friedmans" director andrew Jarecki.  This one has been sitting around gathering dust for a while but a December release indicates, I suppose, a level of confidence in awards prospects.  I did hear great things about Kirsten Dunst's performance once upon a time.
Then again, a reader reported the following yesterday:
I went to a test screening last year and it was horrible. Waste of Gosling, Langella, Philip Baker Hall etc. Terrible Terrible.
Wait and see and all, but ouch.