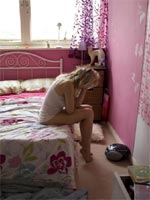 As you know, we at InContention are dedicated to spotlighting below-the-line talent, so this excellent cinematography-themed piece at The Playlist caught my eye — in it, Oli Lyttelton singles out five individuals that he feels are spearheading an exciting new generation of DPs, breaking down their past achievements and future promise in some detail.
The focus on newer names is both refreshing and necessary, given how awards voters can be resistant to outstanding work from comparatively untested talents. Of the five worthy names he puts forth, three — Greig Fraser ("Bright Star"), Eduard Grau ("A Single Man") and Adriano Goldman ("Sin Nombre") — arguably deserved awards traction in the 2009 season than they eventually got, while two — Robbie Ryan ("Fish Tank") and Michael McDonough ("Winter's Bone") — seem destined to be similarly slighted this year, given their low profile and the gritty unprettiness of their projects.
I'd happily co-sign Lyttelton's endorsement in all five cases, particularly Fraser (whom we interviewed back in February, and who placed high on my personal cinematography ballot for 2009) and Ryan, whose fluid, woozy handheld camerawork on Andrea Arnold's sophomore feature still leads my list of Oscar-eligible work this year. I sympathize with those who found Grau's breakout work in "A Single Man" too fussy, but it's skilfully attuned to Tom Ford's visual sensibility; the 28 year-old Spaniard also provides the most valuable contribution to negligible Britpic "Kicks," and is said to have a strong showcase in the upcoming Sundance-stamped thriller "Buried."
Here's Lyttelton on the unusual process behind Robbie Ryan's shooting of "Fish Tank":
"Fish Tank" is arguably Ryan's most visually striking work to date, and deservedly landed Ryan a BIFA nomination for the cinematography. Unusually, the film is in a 4:3 aspect ratio (or, if we're being anal, a 1.33:1 Academy ratio), an initially distancing move which ends up being hugely engaging. Chasing an extreme form of naturalism, Arnold and Ryan's plan was originally to shoot entirely photochemically, without any digital post-production. As it turned out, however, almost no theaters are equipped to project in the format, and they had to digitally reduce the frame in post. You wouldn't tell from the finished product however, which featured some of the most indelible images of the year.
Lyttelton closes out the piece with a scattering of well-chosen honorable mentions, though I'm surprised to see none for such notable talents as Andrij Parekh ("Sugar," "Blue Valentine"), Sean Bobbitt ("Hunger") and British up-and-comer Philipp Blaubach, whose startling, resourceful lensing of the recent thriller "The Disappearance of Alice Creed" is chiefly responsible for what clammy tension the film generates. What new (or as-yet-unsung) cinematographers have grabbed your attention?