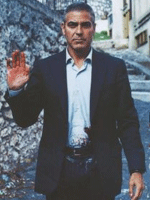 Anton Corbijn's "The American" will be screening for press very soon, and it's one of the films I've been most looking forward to this year.  The photographer-turned-director's debut feature, "Control," was one of the 10 best of 2007 in my book, and the latest looks to be a tense thriller with visual style to spare.
Of course, it would be an aesthetic looker.  Corbijn's photography is the stuff of legend.  And he's directed some visually dynamic music videos in his time, such as Nirvana's "Heart-Shaped Box" and the most intriguing of U2's "One" trilogy.  But the director seems to making more of the production of his latest feature than we tend to get out of a filmmaker.
First, he blogged the experience with nice accompanying photography.  Now it seems a collection of his photographs behind the scenes will fill what's sure to be an attractive picture book, "Inside The American."  Can't wait to pick up a copy.
Some more Corbijn awesomeness after the jump.