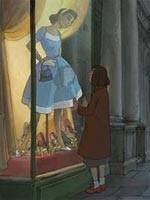 Yeah, yeah, everybody loves "Toy Story 3." Enchanting, amusing, heartbreaking… all those swell things. We hear it every year: Pixar shames every other Hollywood studio, transcends the limits of animation, etc, etc. Pencil in a second consecutive Best Picture nomination, and stick a fork in the Best Animated Feature race — for the fourth year running.
Except it shouldn't be that easy. Pixar may have expertly capped a beloved film franchise, but they haven't made the best animated film of the year. That title, bar a late-year surprise, goes to Sylvain Chomet's "The Illusionist," which knocked me out at the Berlinale in February and thoroughly sustained the magic on a second viewing this weekend.
It occurred to me that the visually rapturous film, a beyond-the-grave collaboration with French comic master Jacques Tati, would form a neat (if very moist-eyed) double feature with the Pixar juggernaut: both take a melancholic approach to themes of growing up and letting go, but it's the Chomet film I found more searching and soulful.
Though it will almost certainly maintain the upper hand in the awards race, in terms of critical regard, "Toy Story 3" faces feisty competition from "The Illusionist" — if the ecstatic reception that greeted the latter upon its UK release last Friday is any indication. Leading the parade of five-star reviews in leading British publications, the Guardian's Peter Bradshaw ventured that the film "will be admired and loved as much as Hayao Miyazaki's Spirited Away was 10 years ago," continuing:
Simply being an animation, and an old-style animation, is a great effect. The Illusionist is like a seance that brings to life scenes from the 1950s with eerie directness, in a way that glitzy digital animation or live-action period location work could somehow never do. Something in the unassuming simplicity of the composition allows the viewer to engage directly with the world being conjured up … The Illusionist is an intricate jewel.
The Telegraph's Tim Robey offers another perfect score, calling the film "a miraculous gem from a master animator":
Tati, it's said, thought his own screenplay too personal and sad to be produced in his lifetime. There's no more dexterous set of hands it could possibly have fallen into … Chomet's vision of [Edinburgh], all dancing light and forlornly beckoning shopfronts, is an exquisite valentine. A lonely and ultimately broken-hearted one. For finding the enchantment in melancholy, and vice versa, this very special film goes straight to the top of the year's must-sees.
Joining the five-star club, and declaring Chomet the equal of Miyazaki and Lasseter, Time Out's David Jenkins expands on the fusion of the director's sensibility with that of Tati:
Purists may moan that there is too much of a defined story for this to be a 'genuine' Tati article, but that's only because Chomet puts his own eccentric stamp on it. Tati thought anything could be funny, and while Chomet runs with that idea as a director, he challenges it as a storyteller. 'The Illusionist' presents a cruel world in flux, a place where people grow old and drift apart and loneliness and failure lead to tragedy.
There are more glowing reviews out there, including ones from the New Statesman's Ryan Gilbey and the Independent's Anthony Quinn, but you get the idea by now: people really, really like this film. The US critics' welcome is bound to be similarly warm when Sony Pictures Classics strategically releases the film Stateside in November; I also expect it to trump "Toy Story 3" at some of the more highbrow critics' awards.
As was the case with Chomet's first feature, "The Triplets of Belleville" (for which Sony employed an identical release strategy), peer admiration and critical adulation will secure "The Illusionist" a Best Animated Feature nomination when Oscar time rolls around — particularly if, as seems likely, the category again houses five nominees this year.
Still, with a title this special, it would be nice to see Sony push for more. It would be a stretch to imagine voters making room for this bijou piece in the top race even if Pixar didn't already have the token animation slot covered. Lower down the list, however, attention from the music branch would be warranted, while Best Original Screenplay recognition — which would entail a posthumous nod for Tati — is quite conceivable: a rare opportunity for the Academy to make a sentimental gesture that is also artistically justified. I hope someone is on the case.
[Image: Telegraph.co.uk]