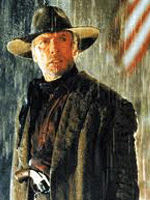 What was the last truly immortal Best Picture winner?  Cases can be made for this or that throughout the years, but for my money, the last film to win the Academy's top prize that is absolutely a film for the ages was Clint Eastwood's "Unforgiven."
And you can get the Blu-ray on Amazon for less than eight bucks.  Do it!
Anyway, nothing other than that on a lazy Sunday.  Though it inspired me to dig up Eastwood's acceptance speech for his Best Director win back in March of 1993.  Naturally, the Academy is stingy with embeds, but have a look and listen here if you're bored.
Oh, and here is Eastwood introducing the film at the AFI's 40th anniversary celebration a few years ago.  And Gene Hackman winning Best Supporting Actor.  And Eastwood on Hackman's character, Little Bill Daggett.
Sorry, I could go on forever about this one.  After the jump, a few choice selections.
Perhaps one of the film's central conceits: the lie of America's bravura:
And one of the cinema's great finales:
I've been talking up the western quite a bit lately.  I'm thinking I'll finally put this list of the genre's 50 best in honor of the Coens' latest installment later this year.