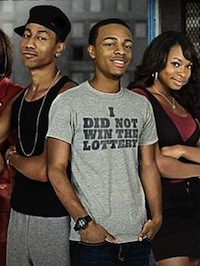 *All historical figures cited are adjusted to today's dollars.
Sorry this is checking in a little late today but I've been at Six Flags all day having the time of my life. I hadn't been since they opened a crazy new ride called Tatsu and it kind of blew my mind, but the X will always be the best 'coaster. In any case, some movies came out this weekend too and performed with varying degrees of success.
The number one movie, again, is "The Expendables." Stallone and his fellow band of 'roid Rangers dropped 53% to $16.5 million but took advantage of a terrible weekend to notch a second frame at the summit. The last time Sly was in a film that spent two weeks at the top was in 1993, when Wesley Snipes was huge and an unknown Sandra Bullock and Jack Black lent support in "Demolition Man."
"Vampires Suck" confirmed the absence of any justice or God in the world by opening in second place with $12.2 million. $18.6 million has already been conned out of America since Wednesday and I'm pretty sure that's ten times the total amount of my top 10 favorite films of last year combined.
"Eat Pray Love" takes the bronze, dropping 48% to $12.0 million. Don't be surprised if this is the real runner-up when actuals are released and even though that drop might seem harsh, "Julie & Julia" did almost exactly the same before leveling out and sticking around through early September.
"Lottery Ticket" might have been the most unheralded of the new releases, and it only got a 1,973 theater release, targeting urban areas, but Warner Bros. and Ice Cube know what they are doing. An $11.1 million weekend gives it the best per screen average in the top 10. For Bow Wow, it's a bit of a personal triumph but it's not quite up to par with the $16.7 million debut he could muster for "Like Mike" back in the Lil' Bow Wow days. I guess a Lil' goes a long way. Hey-oh! Seriously guys, Six Flags is amazing.
"Piranha 3D" falls way back in sixth place, which is a little surprising to me. Sure, it looked bloody and booby and very limiting in terms of audience, but "Lake Placid" could open with $17.2 million and "Anaconda" could do $28.9 million. "Anaconda!" The movie where a snake eats Jon Voight, vomits him up, and then he winks at the camera (Whoops. Spoiler).
"Nanny McPhee Returns" is the fourth forgettable new film this week and it stalled out at $8.3 million. I've said it before that family film sequels always struggle and that goes double for ones that have Maggie Gyllenhaal trying to do a British accent.
"The Switch" completes our quintet of crap, landing in eighth place with $8.1 million. This could have been much worse and I'm not quite sure who is even running the show at Miramax anymore to count these receipts. Aniston and Bateman will survive but what of Jeff Goldblum? We're so close to losing him to TV forever that we can't be too careful. Goldblum must be saved.
It was pretty much a bloodbath all around for these new releases. The only one with an easy path to profit is "Vampires Suck," so you've just written a blank check to Friedberg and Seltzer for a satire on whatever the kids are liking three minutes before shooting starts on their film.
"Scott Pilgrim vs. the World" barely made the top 10, dropping 53%, despite my brother seeing it three times already. Sorry Edgar Wright, he tried.
I didn't see anything this week, but I did go to Six Flags, did I mention that? I'd also like to mention that next week's Friday Forecast and Sunday Cents will be my last on InContention. I've been very happy for Tapley to let me do it for however long it's been, but I'll be focusing all my energy in the Fall on making my second feature. Someone has to try and make some decent movies around here.
Thanks so much for engaging in discourse with me about all the movies I don't like. We've got one more week to lament the state of the film industry together. I'll still be around with the Life Without Oscar columns and maybe a snide comment here or there, so don't throw any parties just yet.
So, what did you guys see? Here are this week's top grossing films courtesy of Exhibitor Relations: