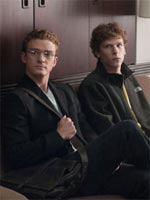 With David Fincher's "The Social Network" already accruing positive buzz ahead of its New York Film Festival premiere next month, its handlers would do well to pre-empt the inevitable pushback over matters of factual accuracy — complaints that have already dogged the film's sloppy source book, Ben Mezrich's "The Accidental Billionaires" (discussed at length in Page to Screen here).
No one will (or should) be seeing "The Social Network" for an exhaustive journalistic essay on the origins of Facebook. Rather, what we're hoping for from writer Aaron Sorkin is a tangy interpretation of the facts that reaches for broader truths about the social-networking generation; dramatic flexibility, then, is the order of the day. Needless to say, the powers behind Facebook, including founder (and "Social Network" protagonist) Mark Zuckerberg, don't quite see things that way. This recent New York Times piece goes into the friction between them and the film's producers.
From the NYT:
Scott Rudin, a producer of "The Social Network," said two top Facebook executives … "saw the movie a while ago, and they do not like it." Mr. Rudin described months of backdoor contacts during which he tried to ease relations with Mr. Zuckerberg by letting colleagues of the Facebook chief read the script, and even by accommodating them with small changes. Facebook had insisted on bigger changes, which the producers declined to make. In the end, Mr. Rudin said, "We made exactly the movie we wanted to make."

In a recent onstage interview, [Zuckerberg] said, "Honestly, I wish that when people try to do journalism or write stuff about Facebook that they at least try to get it right." He later added, "The movie is fiction."
I have not read Sorkin's script, but unless it drastically deviates from the tone set by Mezrich's book, I can't see why Zuckerberg or his Facebook associates should be particularly concerned about the film — the usual "based on true events" factual niggles notwithstanding. The circumstances leading to its ubiquity may not be shown in a particularly noble light, but Facebook itself is rather flatteringly depicted as a revolutionary communication device.
Similarly, Zuckerberg may be presented as a socially maladroit eccentric, but he's no villain; Mezrich's skimpily researched book may align its sympathies more overtly with Zuckerberg's slighted colleague (and willing interviewee) Eduardo Saverin (played in the film by Andrew Garfield), but it's plainly Zuckerberg who's the brilliant, vulnerable anti-hero of the piece. By adding an intimate human dimension to a hitherto, well, faceless coporate entity, it seems to me "The Social Network" could end up doing Facebook more good than harm in the public consciousness.
This issue — plus any other complaints about liberties taken with the truth — will likely be a mere gnat in the film's ear if it continues to track (and ultimately play) so strongly. Anne Thompson, however, raises the not-unreasonable question of whether the film (still two months from release) is at risk of peaking too early in terms of publicity and awards buzz, after this week's leaked rave reviews and general spike in chatter prompted some to label it the presumptive Oscar frontrunner. As the producers of "Atonement," "Up in the Air" and David Fincher's last feature can tell you, nobody likes being labelled the one to beat before the games have even begun.
[Photo: Screencrave]