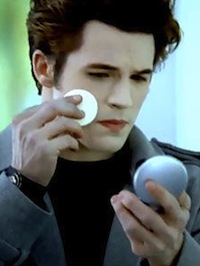 *All historical figures cited are adjusted to today's dollars.
Alright guys. Enough is enough. The only thing less funny than a spoof movie made by Friedberg & Seltzer is the conceptual gag that America keeps playing where we ironically buy tickets to see them. Just to make fun of it, of course. Only problem is we're giving them real money and they are super rich and successful, despite being the worst thing to happen to filmmaking since, well, ever.
"Vampires Suck" leads a gaggle of new releases this week and it's actually already been out since Wednesday. The beyond tired spoof racked up $6.4 million in two days and should be on course for another $14 or $15 million during the weekend. The last time these two got behind a camera was "Disaster Movie," which epic failed at the end of summer 2008 and gave hope that these clowns would never work again. But that film was their only one released by Lionsgate, not Fox, and they didn't know how to market the gold placed in their hands.
Focusing on the biggest phenomenon in film isn't a bad idea either to get back on track. Congratulations America. You've made a scene where something large falls out of the sky and lands on the Old Spice Guy on a horse a part of cinema box office history (note: I have not seen "Vampires Suck" but I'll eat my hat if that scene isn't in it).
Thank God Nanny McPhee has returned. Already a hit overseas (where it's known as "Nanny McPhee and the Big Bang), Universal wisely changed the title to "Nanny McPhee Returns" so hard core creationists will still give it a fair shake. Except they won't, because she's got a witchy nose and witches are evil. We'll stick to our episodes of "Gerbert" thank you very much. The original film was a surprise hit here with a $17.6 million debut in 2006, but I don't know how many people thought the ending left too many unanswered questions. A dearth of family product could help it along to $12 million.
"Piranha 3D" is probably the top choice for the demographic of this blog and if forced at multiple Predator-style gunpoints to see something this weekend, I guess I'd choose it too. Possibly too kitschy to appease actual horror fans, Weinstein hasn't been as aggressive with the property as one of the bigger studios could have and I think a soft $10 million opening will be the end result.
Still, Christopher Lloyd hasn't appeared in a film with a debut like that since "My Favorite Martian" and he deserves better than that. He's Dr. Emmett Brown for Christ's sake. P.S. Remember "Suburban Commando?"
New releases keep rolling with "The Switch" from Miramax, which is essentially defunct. Jennifer Aniston and Jason Bateman test the limits of how ridiculous and nasty romantic comedy concepts can get, yet still be resolved with a 30 second heartfelt speech in public (and/or the rain). Bateman is a pro at appearing in late summer bombs ("The Ex," "Extract") and this will be another notch in his belt. It'll be lucky to gross $4 million.
But wait! "Lottery Ticket" is opening as well. Bow Wow heads a crowded cast of former musicians, VJs and stand-up comedians in yet another film about how crazy it is living in an African American community. So crazy, but there's a lot of heart there too and you're nothing without your neighborhood is what I'm pretty sure the lesson is. Ice Cube is behind this project and he's some kind of box office magician so this should do decent business with a low screen count. Maybe even $10 million.
Phew! That's it for new releases. So does "The Expendables" have enough steroids in its arms to stay number one? I think a 60% drop is a given so that would be $14 million and a decent chance. Of course, "Eat Pray Love" should hold significantly better and could pull as much as $13 million for itself. Could be interesting.
One thing's for sure and it's that "Scott Pilgrim vs. the World" won't be anywhere near the top with a probable 55-60% drop to $5 million. Game over Scott Pilgrim. You'll live on as the Halloween costume of lazy hipsters everywhere so chin up.
What are you guys seeing this week?
[Photo: Fox]