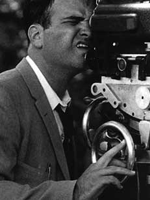 I can't speak to the interest Anne Thompson's source on "The Tree of Life" has in the film, though I imagine anyone who has seen it has a vested interest at this stage.  Regardless, what the source has to say is mouth-watering indeed:
"It's a mystical exploration of the meaning of life, a journey in which a microcosm of a family mirrors the world; the differences between man and woman, husband and wife, are mirrored against nature and grace. It will change the language of movies. It's a real event. People will say, 'what the fuck is this?'"
You'll remember yesterday Todd McCarthy publicly stated his expectation that the film will move to 2011, based on little more than the usual impatience.  In his role as New York Film Festival selection committee member, I guess he just got some bad vibes when promise after promise was made to screen it for potential inclusion in the fest, only to no avail.  But I wonder if all of this back and forth is ultimately unhealthy for the film itself.
Look, it's obviously okay to be passionate about an upcoming film.  It happens in this space frequently.  And Terrence Malick is the kind of filmmaker who attracts a unique sort of rabid expectation from film lovers.  But it seems to me that the frothing at the mouth has reached a fever pitch we haven't seen since…well, "Inception," just over a month ago.
Is there any way "The Tree of Life" will be satisfactory to those scrambling for any new nugget at this point?  When the curtain finally lifts, will the anticipatory chafing be too raw for the film to soothe?  In so many words, can any filmmaker live up to this kind of hype?
What's worse, Malick is beginning to be (if he hasn't been in some quarters for quite a while) questioned consistently.  "Just hurry it up already," those without an inkling of what goes into crafting a film seem to shout.  Let the guy finish the movie on his own terms.
Anyway, Thompson goes on to speculate that there are too many people with enough riding on the film for it to be delayed once more.  Make of that what you will, but personally, I'd say there's plenty on deck to focus on otherwise.  And hey, if you're such a Malick junkie, the Criterion Blu-ray release of "The Thin Red Line" is imminent.