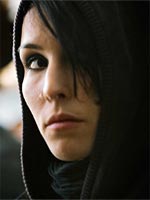 If we didn't mention last week's big casting news of Rooney Mara landing the role of Lisbeth Salander in David Fincher's English-language remake of "The Girl With the Dragon Tattoo," it's because a) the story hardly wanted for coverage, and b) I don't exactly share many people's keen interest in Stieg Larsson's mega-selling literary franchise. I find the books diverting but undistinguished airport fare, and the hit Swedish screen adaptation of "Tattoo" a one-note televisual slog.
That said, I'm fine with any phenomenon that compels mainstream audiences to read both books and subtitled movies — yet I draw the line when people start suggesting that the film should be in line for awards recognition. Deadline Hollywood's Nikki Finke, however, suggests that the film's backers sense awards potential for the screen's original Lisbeth, 30 year-old actress Noomi Rapace:
I've learned that Music Box Films is about to hire an Oscar publicist, probably Melody Korenbrot, to promote Noomi for a Best Actress nomination. That's right, Best Actress. She's already won the Swedish equivalency of that for the film. Her new agents at UTA and managers at Magnolia are comparing her to Marion Cotillard, who appeared in a small foreign film, came out of nowhere to be nominated and then win the Best Actress Academy Award, then landed big roles in major studio tentpoles.
Anne Thompson nonchalantly shoots down that rumor, claiming that Korenbrot has not been approached — and that, in what is already a crowded-looking Best Actress race, Rapace would be a long shot for an Oscar nod in any event. I take Anne's side on this one. For starters, the Cotillard comparison is ludicrous: in terms of bluehair Oscar-friendliness, the vast chasm between a lavish French biopic of a legendary singer and a violent, contemporary Swedish thriller revolving around an ass-kicking, facially-pierced heroine need hardly be explained.
On a more subjective note, I must politely query whether Rapace's performance merits a campaign at all. (Yes, I'm fully aware of how naïve it is to bring the performance itself into discussion.) Rapace may be a fine actress, and I can see why Hollywood casting agents might be drawn to her able screen physicality, but I personally thought her a slightly rigid presence in "Dragon Tattoo," more hemmed in than piqued by the character's dourness. Clearly, many disagree — she already has a European Film Award nomination for her pains — but the performance is too untextured to justly stand alongside the likes of Jennifer Lawrence, Annette Bening and Lesley Manville (to name but three leading contenders that I've actually seen).
Those hoping to see some manner of Oscar acknowledgement for the franchise this year would do best to concentrate on the Swedes' submission for Best Foreign Language Film, though that seems unlikely too. For starters, they would have to select the third film in the franchise, "The Girl Who Kicked the Hornet's Nest" — the previous two instalments having been released in Sweden before October 2009, thus ruling them out of eligibility — which likely wouldn't go down a storm with voters unfamiliar with the whole.
That's even assuming the Swedish selectors would pick such a populist option; last year, they passed over the first two films in favor of the Cannes-approved arthouse pic "Involuntary." Why should things be different this year?
[Photo: Buzzine]