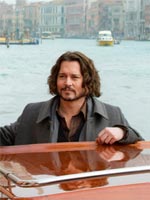 It's difficult to know how to interpret the news that "The Tourist," the first English-language feature from Florian Henckel von Donnersmarck, has been yanked forward into the 2010 release calendar, following a reportedly well-received screening for studio bosses. The film will now hit US theaters on December 10, a release date it shares with the latest "Chronicles of Narnia" instalment and, more pertinently, David O. Russell's Oscar hopeful "The Fighter."
Why difficult? Well, the buzz on the film has heretofore been so quiet that we have little idea what manner of beast it is. I haven't seen "Anthony Zimmer," Jérôme Salle's well-regarded but underexposed 2005 French espionage thriller from which von Donnersmarck's film is adapted, but it appears to be a lightweight genre effort.
While many will assume that the rescheduling positions "The Tourist" as a serious awards prospect, it could just be that Sony sees the film as a commercial winner for adult audiences in the pre-Christmas rush. (We only need look back at last year's brutal holiday season to be reminded that a December release is no guarantee of awards gold.)
On the other hand, if the film's pitch doesn't sound entirely baity, its pedigree does: after a four-year wait, many will be interested to see how the German director follows up his Oscar-winning "The Lives of Others," while the star pairing of Johnny Depp and Angelina Jolie (with Paul Bettany — huzzah — in support) is as A-list as it gets.
The screenplay is credited to an unlikely pair of Oscar champs in Julian Fellowes and Christopher McQuarrie (plus the writer of "The Day After Tomorrow," but we'll put that to one side for now), while the presence of below-the-line names like John Seale, Colleen Atwood and Joe Hutshing makes it clear we're dealing with, at the very least, high-end studio product. (My new favourite website Clothes on Film, incidentally, was getting worked up over Atwood's contribution back in June.)
As it stands, I don't feel compelled to alter my predictions just yet, but with the prestige release slate still looking a touch sparse, it's nice to have something new on the radar. What does your gut tell you?
[Photo: Clothes on Film]