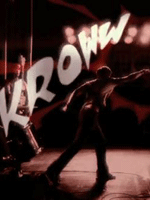 I want to take a moment to note that, regardless of my feelings on the film, I'm really bummed about the box office performance of "Scott Pilgrim vs. the World," not least of all because Edgar Wright is one of the good guys.  He's making movies for all the right reasons.
In any case, it's left to be seen whether the film editing, visual effects or sound elements from the film can make a dent in the Oscar season, but the latter has received a SoundWorks Collection profile worth your look and listen.  The film is obviously alive in ways few films are and the below-the-line aspects are key to that.
The crew includes re-recording mixers Chris Burdon and Doug Cooper with effects editors James Harrison, Ben Meechan and Julian Slater.  Have a look at the profile after the jump.