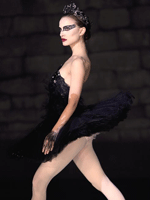 In the last couple of weeks the major fall film festivals have unveiled aggressively competitive line-ups, and the amount of potential awards product landing at Venice, Telluride, Toronto and New York is, as usual, vast.
There are plenty of overlapping exhibitions but as for firsties, Venice will get dibs on Darren Aronofsky's "Black Swan," Julie Taymor's "The Tempest," Julian Schnabel's "Miral," Ben Affleck's "The Town," and Richard J. Lewis's "Barney's Version" before the films make their way to other fests.  Sofia Coppola's "Somewhere" will be exclusive to the Lido.
New York, meanwhile, landed a real coup by boasting the world premiere of David Fincher's "The Social Network," which will not be at the other fests.
Toronto is again packed to the gills with product (too much, if you ask me, but it's a media circus after all).  Clint Eastwood's "Hereafter" will see its first bow there before heading off to New York in October.  Tony Goldwyn's "Conviction" will also debut, as well as John Madden's "The Debt," Rowan Joffe's "Brighton Rock," Ryan Fleck and Anna Boden's "It's Kind of a Funny Story" and Nigel Cole's "Made in Dagenham." World premieres searching for distributors at the fest include Robert Redford's "The Conspirator," John Cameron Mitchell's "Rabbit Hole" and Dustin Lance Black's "What's Wrong with Virginia," any of which could end up being awards season possibilities.
I know the Telluride line-up, but shouldn't really divulge it here.  They like to keep it secret, so I'll respect that, even if Jay Fernandez and The Hollywood Reporter does not.  If you're not seeing a number of films in that last graph that you thought were seeing world premieres at Toronto, well…there's your answer.  Their real premieres will be in the Colorado mountains a few days earlier.
The only films announced for London so far are the Fox Searchlight bookends: "127 Hours" and "Never Let Me Go," both of which will have already played other fests.  But they've landed intriguing premieres across the pond before so we'll keep an eye out.
And don't forget about Fantastic Fest, which really made an awards season splash a few years ago when Paul Thomas Anderson's "There Will Be Blood" premiered there.  Matt Reeves's "Let Me In" was announced today as the opening night film, though it will have already played Toronto by that time.  I hear it's going to be an exceptional line-up this year, so perhaps it's wise to keep an eye on announcements coming out of Austin.
There will be plenty of Sundance and Cannes carry-overs as well, but we should know plenty about this year's awards season a month from today.  For now, that's my round-up of a few things to look for.  Guy will be covering Venice and London and I will be doing Telluride, but we won't have a presence in Toronto or New York.
And as a reminder, I won't be updating the predictions or writing a new Off the Carpet column until August 30.  This lull is vital to my sanity (and, trust me, yours).