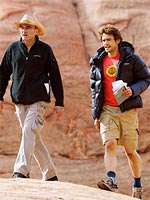 As much as I've remained interested in Danny Boyle's work through thick and thin, I'm struggling to pinpoint why I'm not more excited about his well-buzzed "127 Hours."
The story of Aron Ralston — better known to some as "that mountain climber dude who cut off his arm" — is a remarkable one, and yet I question how many potential avenues of discovery it presents on a big screen. Boyle will need to be at his least fussy, and James Franco galvanizing, to make the film more than a gruelling technical exercise.
The trailer premiered this weekend at London's Movie-Con, so it will surely surface online soon enough. Empire has posted an extract from Boyle's onstage interview accompanying the trailer — from which it seems that the film's makers and handlers are well aware of the marketing challenges posed by a film that centers on a single immobile character over the titular period of time.
Boyle, clearly enthused about the technical resourcefulness necessitated by this seemingly uncinematic narrative (not that the puppyish director ever doesn't sound enthused about anything), says, "We want it to be a challenge to you guys … to see whether you can sit and watch it." This is unlikely to be music to the ears of the marketing team, who have reportedly sidestepped that problem by cutting a trailer that lingers on Ralston's active, partying lifestyle prior to his mountaineering mishap.
Check out more of Boyle's Movie-Con chat at the Empire site here.
[Photo: Entertainment Weekly]