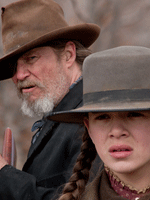 A few weeks ago I was having coffee with a director, a recent awards season success story who shall remain nameless, who told me in meeting after meeting with acting talent, it seems one thing is consistent: actors want to make westerns.  The obvious catch?  Studios don't.
It's hardly new news that Hollywood brass shies away from period budget, low-yield filmmaking.  It's partly the reason the genre all but completely died out, that and a failure of western filmmakers to shift with changing socio-political climates and see the genre as one of flux, not stagnated morals and Americana.  But given tax incentives in neighboring states and any number of ghost towns ready and willing to play host to Hollywood crews, the number-crunchers have stayed away.
It says a lot that a masterpiece of the medium (decade's best "The Assassination of Jesse James by the Coward Robert Ford") was left to fight alone at a time when it needed help the most, while second and third string comic book franchises are greenlit daily.  To me, the fiscal bottom line on westerns has become more of a self-fulfilling prophecy than anything else.  Granted, the public isn't showing up, but a little shove couldn't hurt.
With all that in mind, I'm probably pulling harder for the success of the Coen brothers' "True Grit" than any other 2010 film.  God knows disasters like "Jonah Hex" (a craven attempt at pumping the comic book audience into the fold) are doing the genre no favors.  This is a quintessential American art form that deserves continued interpretation and re-interpretation.
I know the actors largely just want to play cowboy, but studios, please.  Listen to them just this once.  Get some westerns in the pipeline.
Here's the first still from "True Grit," released today by Paramount publicity: