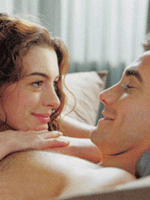 When I took an initial stab at forecasting the Oscar season back in March, I hung my hat on the prospect of Edward Zwick, a perennial also-ran in Oscar's years of five, and a promising true-story comedy "Love & Other Drugs." I've been steadily pulling back on that punch, though, and while 20th Century Fox has little else in the hunt this season, it's starting to look like Golden Globe territory more than anything else.  Which is hardly a bad thing, mind you.
Then again, in a first look recently revealed by Entertainment Tonight (courtesy of The Playlist), the chemistry between stars Jake Gyllenhaal and Anne Hathaway (reunited five years after "Brokeback Mountain") is sharp and electric, while their performances separately seem to have a confidence and precision that might get them places in the season.
Based on the book "Hard Sell: The Evolution of a Viagra Salesman," the film stars Gyllenhaal as the Jerry Maguire of the pharmaceutical business who meets Hathaway's Parkinson's suffering free spirit on a drug call.  Cue romantic comedy stylings.  Check out the ET first look (which likely foreshadows a trailer debut any day now) after the jump.
[Photo: 20th Century Fox]