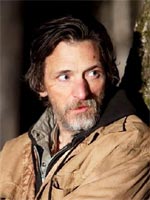 With indie darling "Winter's Bone" beginning to sidle out of American theaters, the most important gain it leaves with — besides its not-inconsiderable $4 million gross — is a healthy head of Best Actress buzz for breakout star Jennifer Lawrence.
Sure, recognition for the screenplay may be on the cards too; even a filler Best Picture nod isn't inconceivable, should critics rally for the film in December the way they did for "Frozen River" two years ago. But its awards hopes begin with its 19 year-old lead: she's the story, the bright young thing whose achievement even the film's detractors can agree on.
But should she be getting all the glory? Not so fast, says Nathaniel Rogers. In this week's instalment of Best in Show, a self-explanatory weekly column for Tribeca Film, Rogers argues that Lawrence, fine as she is, may not even be the film's most valued player. That position, he says, is held jointly by older character actors John Hawkes and Dale Dickey.
He writes:
Dale Dickey is riveting as the sour-faced Merab. Continually blocking Ree's path, she's as hard as nails and as chilling as the icy weather. Dickey complicates Merab at every turn; there's both a shadow of violence in her moments of mercy and a hint of pity in her aggression that keep you guessing. These contradictions are communicated so naturally that her actions are impossible to predict but utterly believable once they're transpiring.

Closer to Ree, blood-wise, is her uncle Teardrop, brilliantly handled by John Hawkes. Family is still the tie that binds, but in this unforgiving milieu it seem just as likely to bind to the point of choking, strangling or outright severing.
I second Rogers's enthusiasm in both instances, and while I wouldn't go so far as to say that either actor outdoes Lawrence's tremendous thesping in the foreground, it's nice to see one writer recognising the film as the rock-solid ensemble piece it is. After first seeing the film, I held out some hope that Hawkes — a wonderful actor seizing upon his meatiest role since 2005's "Me and You and Everyone We Know" — might grab a smidgen of the film's awards talk, but that doesn't seem to be the case thus far.
Check out the rest of Rogers's column here. Have you seen "Winter's Bone" yet? Whose performance do you feel most inclined to champion?
[Photo: Ace Showbiz]