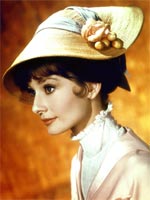 British papers have probably made more of Emma Thompson's recent dismissal of Audrey Hepburn than her slightly flip comments warranted, but it has prompted an interesting amount of side-taking over the merits of one of Old Hollywood's most beloved (or so we thought) icons. If you're new to this story, Thompson's jabs at Hepburn were made with specific reference to her performance in "My Fair Lady," for which Thompson herself is scripting the upcoming big-screen remake:
[T]here needs to be a new version. I'm not hugely fond of the film. I find Audrey Hepburn fantastically twee. Twee is whimsy without wit. It's mimsy-mumsy sweetness without any kind of bite. And that's not for me. She can't sing and she can't really act, I'm afraid. I'm sure she was a delightful woman – and perhaps if I had known her I would have enjoyed her acting more, but I don't and I didn't, so that's all there is to it, really.

It was Cecil Beaton's designs and Rex Harrison that gave it its extraordinary quality. I don't do Audrey Hepburn. I think that she's a guy thing… It's high time that the extraordinary role of Eliza was reinterpreted, because it's a very fantastic part for a woman.
Let's leave aside for a moment the fact that anyone responsible for creating "Nanny McPhee" should think carefully before accusing others of "mimsy-mumsy sweetness without bite." Thompson is an imposingly great actress, blessed with more range, nuance and assorted technical gifts than Hepburn herself would have admitted to possessing; if anyone's entitled to pass judgment on actorly worth, it's the woman capable of spinning gold from candyfloss in "Love Actually."
I know a number of people who share Thompson's vexation with Hepburn, who find her wide-eyed naïveté affected and inhibiting, calculatedly artless, even. I am not among them. Hepburn may or may not have been a great actress — she was certainly one canny enough to know her limitations. But she was plainly a great movie star, one with more innate charisma than the legions of subsequent starlets who, at one point or another, have been declared "the new Hepburn," and one who maintained an expertly constructed screen persona over two decades while subtly tweaking it to the demands of the era.
The fresh-faced gamine of "Roman Holiday" and "Sabrina" gave way to something a little more guarded in "Breakfast at Tiffany's"; many, particularly loyalists of Truman Capote's source novella, find her inappropriately winsome as Holly Golightly, but the performance works for me because her Holly seems to be so effortfully, even fearfully, playing that very winsomeness to the outside world. If her work in "My Fair Lady" is less smart, it's because the screen treatments of the material demands little of her but relentless loveliness; three years later, she was challenging herself by tailoring that charm to the thornier late-60s cool of "Two for the Road."
Thompson (and many others) would be quite welcome to contest every word of this. Everyone has at least one or two revered screen legends that they simply don't get: I'm writing this from my lonely corner in the Jimmy Stewart Un-Fanclub, for example. But I feel compelled to stick up for Hepburn, since the latter-day commodification of her image (usually via that over-exposed "Tiffany's" poster) into a kind of universal, ubiquitous symbol of retro-chic has rather eclipsed her actual performances — many of which merit more discussion, in praise or otherwise. (As for Thompson's "can't sing" claim, I invite her to look past the studio-enforced dubbing of "My Fair Lady" and rewatch Hepburn's modest but technically deft mastery of the tricky Gershwin melodies of "Funny Face.")
Finally, I do wonder whether Thompson has seen the film that has turned many a Hepburn agnostic round to her skills. In "The Nun's Story," in which she plays an inexperienced Belgian nun struggling with the personal and professional demands of her faith, her fey mannerisms and swannish physicality are stringently denied her, forcing her to act from the face outwards. It's an arrestingly still, stark performance that ranks with the best of Streep, Ullmann or, well, Emma Thompson. It's still unconfirmed which actress will fill Hepburn's shoes as Eliza Doolittle — Carey Mulligan is the current favorite, taking over from Keira Knightley — but if the producers find someone with a performance that heavyweight already under her belt, they'll be doing very well indeed.
[Photo: Doctormacro.com]