The occasional indignity of being an Academy Award champ is that it gives obituaries an immediate short-cut through one's career: a lifetime of distinguished work can be handily reduced to "culminated in an Oscar win for _________."
Such is the case in many pieces on the passing of Patricia Neal yesterday, albeit justifiably supplemented with observations on her troubled personal life and remarkable recovery from multiple illnesses. Indeed, as a kid obsessed with all things Roald Dahl, I was, for many years, more familiar with the woman than the actress.
When discussing her film career, however, it's hard not to zero straight in on her tremendous, Oscar-nabbing work in "Hud": handily the most electric moment of an otherwise respectable career, yes, but also among the most essential, era-defining performances ever honored in the Best Actress category. (Yes, up there with greatest-win peers like Vivien Leigh and Hilary Swank, and perhaps something of an evolutionary link between them.)
Prior to Martin Ritt's masterful 1963 anti-western — one of my favorite films, incidentally — Neal was effectively Hollywood's reserve society beauty: not quite in the top rank of stars or actresses, but one who could be relied upon to class up the joint when needed.
Taking the role of Alma, a cynical, divorced housekeeper on a dying Texan ranch, wasn't exactly the kind of "de-glam" move so familiar to Oscar pundits — Neal had scarcely been sexier on screen, for starters — but it was a shift for the actress toward a rawer, more sexually damaged femininity in which American filmmakers were only beginning to acquire an interest. If Alma isn't yet empowered in the face of the men who employ and abuse her, she is an independent, privileged with the choice of whether or not to remain, if little else. As wittily and economically played by Neal, the character strikes me as something of a pre-feminist signifier in American cinema.
Of course, there are other worthwhile places to go in Neal's filmography, should you want to pay tribute: if her tart modernity is a much-needed asset to Otto Preminger's frequently creaky war epic "In Harm's Way," she's just one of many good reasons to check out Elia Kazan's "A Face in the Crowd." Hardly anyone has seen her taut, fragile work in the Dahl-scripted psychological chiller "The Night Digger"; everyone, on the other hand, has seen "Breakfast at Tiffany's," but it's rarely mentioned how affecting she is as the woman trying to match her '50s Park Avenue primness to Holly Golightly's swinging new-generation glam. Until "Hud," she'd never been so cannily cast.
(Click on the image below to watch one of her — and "Hud"'s — finest moments.)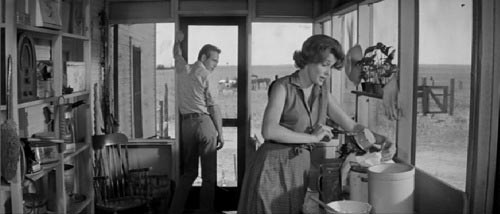 [Photos: New York Times and This Distracted Globe]