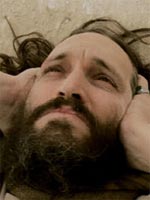 If you happen to feel you've seen too little of Vincent Gallo lately, you really should head to Venice next month, where he'll now be gracing two Competition titles (not to mention multi-tasking as writer-director-producer-editor in one of them).
It was announced two weeks ago that "Promises Written in Water," his first venture behind the camera since 2003′s roundly reviled "The Brown Bunny," will contend for the Golden Lion; now comes confirmation that veteran Polish director Jerzy Skolimowski's "Essential Killing," in which Gallo stars alongside Emmanuelle Seigner, has been added to the Lido lineup.
"Essential Killing" marks Skolimowski's first appearance in a major festival competition since 1991′s "30 Door Key," and only his second directorial effort since then. The Venice press release describes it thus:
The film tells the story of an Afghan man [Gallo], captured by American forces in Kabul, who finds himself transported to a nameless European country. He manages to escape into the vast frozen woodland, a world away from the desert home he knew. Forced into extreme survival mode, he must kill anyone who strays into his path.
This, I assume, is the final surprise addition that was promised when the initial lineup was announced, so those hoping against hope for Terrence Malick to pop up on the Lido after all would be well advised to stop holding their breath.
[Photo: Labiennale.org]
Related Posts