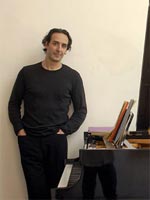 The World Soundtrack Awards aren't quite as authoritative as their lofty names implies — established in 2001 to accompany the annual Ghent Film Festival in Belgium, they are voted upon by an educational organization of film composers dubbing themselves the World Soundtrack Academy. Given their European origins, it's interesting how much their awards overlap with those of American awards bodies.
Coming at this point in the calendar, this year's nominees fudge together some first-half releases  from this year with a bunch of 2009 awards veterans. All the nominees for Score of the Year, for example, come under the latter heading, three of them having been Oscar-nominated. (The other two, "A Single Man" and "Where the Wild Things Are," remain my two favourite scores of 2009: good on the WSA for remembering them.)
Looking at some of the 2010 titles getting mentioned, however, one has to wonder how deep they were digging: "Knight and Day" and "Alice in Wonderland" don't belong within striking distance of any musical honor, even as part of a body of work.
(Full list of nominees after the jump.)
Landing nods in both the Composer of the Year and individual Score of the Year categories are Hans Zimmer (eligibility dates presumably cut out "Inception"), Carter Burwell (rarely recognized in such a fashion) and Alexandre Desplat, who won both these gongs at last year's ceremony. Looking ahead to the coming awards race, the only title to take from here with any degree of seriousness is "How to Train Your Dragon," nominated for both its popular score and its original song by Sigur Rós frontman Jon Birgisson.
Full list of nominees (via ScreenDaily):
Film Composer of the Year
Carter Burwell, "The Blind Side," "Howl," "The Kids Are All Right," "A Serious Man," "Where the Wild Things Are"
Alexandre Desplat, "Fantastic Mr. Fox," "The Ghost Writer," "Julie & Julia," "New Moon"
Danny Elfman, "Alice in Wonderland," "The Wolf Man"
John Powell, "Green Zone," "How to Train Your Dragon," "Ice Age: Dawn of the Dinosaurs," "Knight and Day"
Hans Zimmer, "Despicable Me," "It's Complicated," "Sherlock Holmes"
Original Film Score of the Year
James Horner, "Avatar"
Alexandre Desplat, "Fantastic Mr. Fox"
Hans Zimmer, "Sherlock Holmes"
Abel Korzeniowski, "A Single Man"
Carter Burwell and Karen O, "Where the Wild Things Are"
Best Original Song for a Film
James Horner, Simon Franglen and Kuk Harrell, "I See You" from "Avatar"
Ryan Bingham and T Bone Burnett, "The Weary Kind" from "Crazy Heart"
Paul McCartney, "I Want to Come Home" from "Everybody's Fine"
Jon Birgisson, "Sticks and Stones" from "How to Train Your Dragon"
Randy Newman, "Almost There" from "The Princess and the Frog"
[Photo: Last.fm]