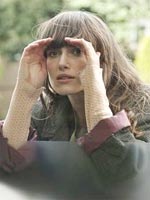 Previously a handy catch-up festival for locals who had missed out on the major premieres of Cannes and the like, the London Film Festival raised its profile significantly in the last two years by opening with major world premieres — "Frost/Nixon" and "Fantastic Mr. Fox."
They haven't quite managed to repeat the trick a third year running: this year's curtain-raiser, Mark Romanek's Kazuo Ishiguro adaptation "Never Let Me Go," will have already premiered at Toronto the month before. Still, it's a prestigious feather in the film's cap, a handy pick for those Europeans unable to make the flight out to Canada, and an appropriately British way to kick off the festival. Coincidentally enough, it's the fourth year in a row that the LFF has opened with a semi-Brit pic from a North American director.
The 2010 London Film Festival will run from 13 to 28 October. All eyes now will be on festival director Sandra Hebron's closing night selection. Last year, the festival closed with another world premiere — Sam Taylor-Wood's "Nowhere Boy," which will finally make its way to US theaters this autumn — and if they plan to maintain the  international press presence they enjoyed last year, they'll want to do the same. Shooting for the stars here, but… "Harry Potter," anybody?
Press release after the cut.
The 54th BFI London Film Festival, in partnership with American Express, is proud to announce that this year's Festival will open on Wednesday 13 October with the European premiere of NEVER LET ME GO, directed by Mark Romanek (One Hour Photo), based on the highly acclaimed, bestselling novel by Kazuo Ishiguro and adapted for the screen by Alex Garland (Sunshine, 28 Days Later).

The stars of the film are expected to attend the opening night screening, including Oscar® nominee Keira Knightley (Pride & Prejudice, Atonement), BAFTA winner and Oscar® nominee Carey Mulligan (An Education) and BAFTA TV award winner Andrew Garfield (Boy A, Red Riding).

NEVER LET ME GO is a remarkable story of love, loss and hidden truths. Kathy (Mulligan), Tommy (Garfield) and Ruth (Knightley) spend their childhood at Hailsham, a seemingly idyllic English boarding school where they discover a dark and haunting secret about their future. As they leave the shelter of the school behind and draw inexorably closer to the devastating fate that awaits them as adults, they must also confront the deep feelings of love, jealousy and betrayal that threaten to pull them apart. Twentieth Century Fox will release the film in the UK on 14 January 2011.

Sandra Hebron, the Festival's Artistic Director comments: "'It is a great pleasure to be able to open the festival with a film as accomplished and imaginative as NEVER LET ME GO. It combines impeccable film making, outstanding performances and a deeply moving story, and I couldn't wish for a stronger or more appropriate opening night."

On having the film's European premiere at the Festival, Andrew Macdonald of DNA Films comments: "We're delighted that NEVER LET ME GO has been selected to open this year's festival. It has been a privilege to be involved with bringing Kazuo Ishiguro's remarkable novel to the screen, and to work with such an exceptional British cast. We look forward to unveiling the film in London."

Director Mark Romanek adds: "I think I can speak for the entire cast and crew when I say that we are deeply honored and excited to have been selected to open this year's festival. For me personally, it seems the perfect way to celebrate the conclusion of an incredible filmmaking experience in the UK."

Fox Searchlight Pictures, DNA Films and Film 4 present NEVER LET ME GO. It is produced by Andrew Macdonald and Allon Reich. Alex Garland, Kazuo Ishiguro and Tessa Ross are Executive Producers.

The full programme for The 54th BFI London Film Festival will be announced at the Press Launch on Wednesday 8 September. The Festival runs from 13-28 October 2010.
[Photo: Ace Showbiz]